The master of fine arts (M.F.A.) degree program in studio arts emphasizes experimentation in the creation of innovative modes of artistic production.
Admission + Portfolio Requirements + Deadlines
Our M.F.A. brings together faculty and students to take part in the creation and discussion of contemporary art through seminars, studio visits with national and international visiting artists, distinguished faculty, cross-disciplinary critiques, and diverse academic courses Syracuse University has to offer.
As an art school within a research university, our emphasis is on the creation of innovative modes of artistic production. Offering both a two-year and three-year program, our curriculum affords the opportunity to work within one of our nationally recognized areas or across disciplines, enabling graduate candidates to develop a course of study specific to their research goals.
Graduates are provided a studio as well as access to over 70,000 square feet of shared facilities and shops within studio intensive areas. With a dedicated graduate-run gallery, Random Access, M.F.A. candidates have opportunities to exhibit and take part in the curation of work as well as reach beyond the campus into the community. An M.F.A. thesis exhibition in New York City and Syracuse finishes the degree experience.
The semester residency program is designed as a career development opportunity for M.F.A. candidates in studio arts. Focused on the development of studio/creative practices and the essential professional skills required of today's contemporary artist, the program immerses students in such internationally recognized arts centers as Los Angeles (via the Turner Semester), Berlin, and New York City.
Bridging academic study and a career in the arts, the semester residency program allows students to define themselves and their work in relation to the field of contemporary art. Guided by faculty, studio visits with local artists, curators/writers and exhibition opportunities, the semester residency program enables students to make the transition to professional artist.
In addition to the semester residency program, M.F.A. studio arts students also have the opportunity to travel to Los Angeles for Turner Art Week in LA. Held during Spring Break, this immersion experience allows students to undertake an intensive investigation of art collections housed in the city's most significant museums, as well as visit galleries and contemporary studios to hear from prominent artists, curators, and gallery owners, many of whom are accomplished Syracuse University alumni.
Student Work
---
Graduate Opportunities
We offer merit-based tuition scholarships. Students with exceptional academic standing maintain scholarship during the two or three-year degree candidacy.
The VPA Fellowship offers an outstanding incoming graduate student a full-tuition scholarship with financial support during the two or three-year degree candidacy. The fellowship is offered every three years.
The program offers over 40 teaching opportunities a year for graduate students. We offer instructional associate and area jobs working alongside faculty and staff managing School of Art facilities.
Our program offers Creative Opportunity Grants (COGs) each academic year including the summer to support graduate research and professional development.
M.F.A. thesis candidates show work locally as well as in New York City.
---
Curriculum
View the full M.F.A. in studio arts curriculum.
Four seminar classes: 24 credits
Three to six graduate critiques: 18 credits
Six studio intensives / electives: 18 credits
Total Credits: 60
Length of Residency: 2-3 years
---
Areas of Research
In developing individual practices, students draw upon areas of focus and faculty expertise, including:
Ceramics
Drawing
Jewelry and Metalsmithing
Painting
Print Media and Graphic Art
Sculpture
Interdisciplinary Practice
Ceramics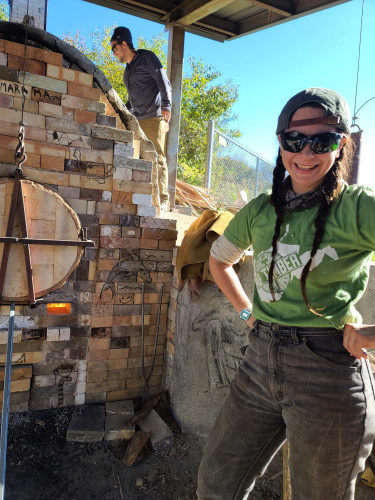 In ceramics, artists pursue study in pottery, sculpture, tile mosaics, and other areas of interest. Our faculty, facilities, and resources encourage and accommodate experimentation with a variety of traditional and non-traditional approaches. Firing techniques supported in the program include high-fire reduction, oxidation, salt glazing, wood, soda, pit, and raku. We also support an Anagama kiln.
Ceramic art has deep roots in the Syracuse community. The Everson Museum of Art boasts one of the most comprehensive holdings of American ceramic art in the nation. We have an active and varied visiting artist program, a history of curating exhibitions, and an expectation for our graduates of participation in the field on the national and international levels.
Drawing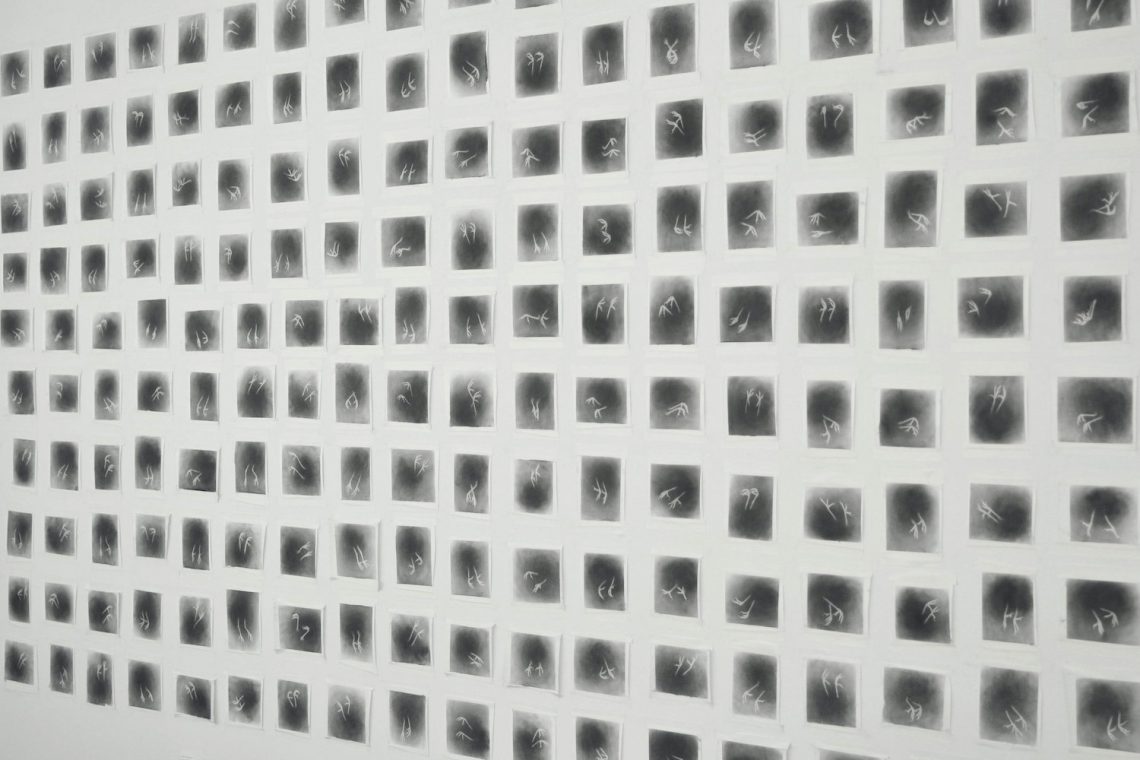 Drawing practices in the School of Art seek to redefine the materiality of drawing at a time when digital technologies dominate visual communication. By embracing the representational, abstract, illustrative, and conceptual, the drawing intensive aims to serve as a platform for experimental methods, concepts, and practices while respecting time-honored histories and conventions. The drawing intensive seeks to promote and disseminate drawing research, with emphasis on contemporary practices and theoretical context.
Jewelry and Metalsmithing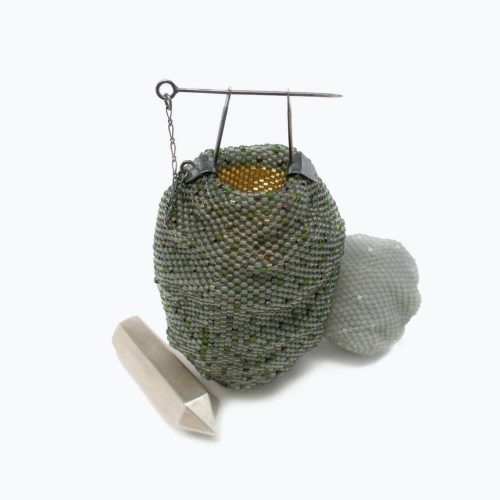 Metalsmithing is both an aesthetic and conceptual vehicle. At the graduate level, the relationship between the body and the jewelry, the vessel and the space it occupies, defines, and contains are central to critiques, discussions, and readings. As emerging artists, our graduate students form a strong and supportive community across areas giving each individual a unique experience and education. Our facilities accommodate traditional and nontraditional jewelry and metalsmithing techniques. Graduate students have private or semi-private studios in a building that is also home to arts education, ceramics, printmaking, and sculpture.
Painting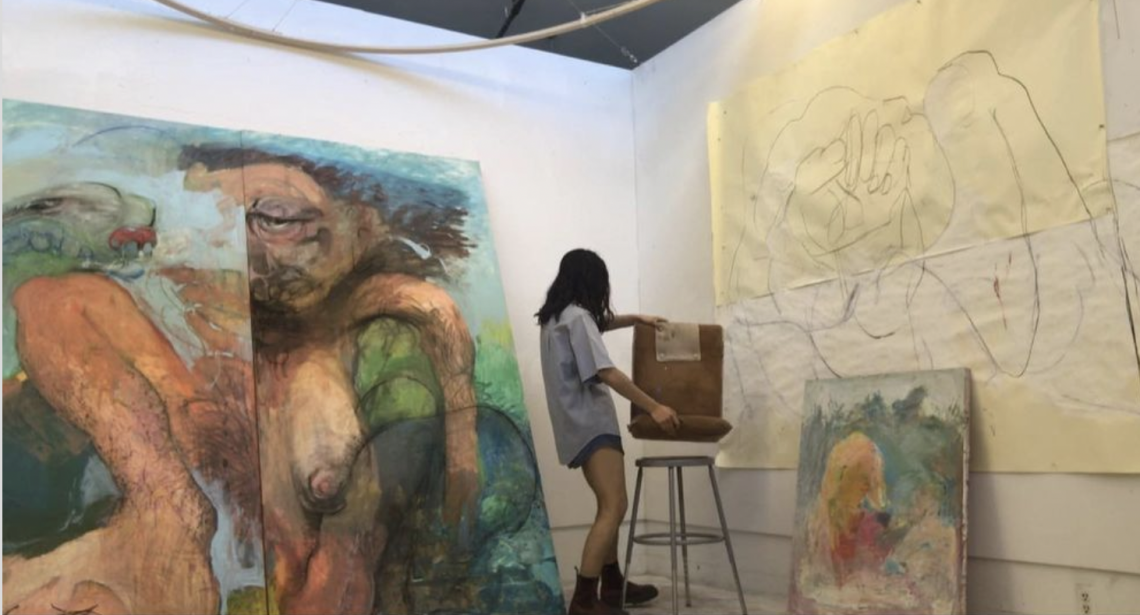 The painting intensive's long history at Syracuse University demonstrates a steady and deep commitment to the practice of painting, a discipline that is as relevant now as ever. Our mission is to provide the resources and support that you need to develop your practice and to broaden your understanding of what drives creative endeavors in our increasingly interconnected world. With our internationally known faculty and visiting artists, we offer you a wide perspective on the creative process and what it means to be a practicing artist.
The dichotomies between traditional and contemporary art or figurative and non-representational painting have imploded,encouraging strong, self-motivated, individual work. The artists in our painting intensive represent the global possibilities of what painting can be, whether it embraces traditional, interdisciplinary, or multidisciplinary approaches. The resources we offer include individual painting studios, grants for creative pursuits, teaching opportunities, and M.F.A. exhibitions in New York City as well as on campus. Additionally, our M.F.A. program is greatly enhanced by being in the midst of an outstanding and diverse university environment.
Print Media and Graphic Art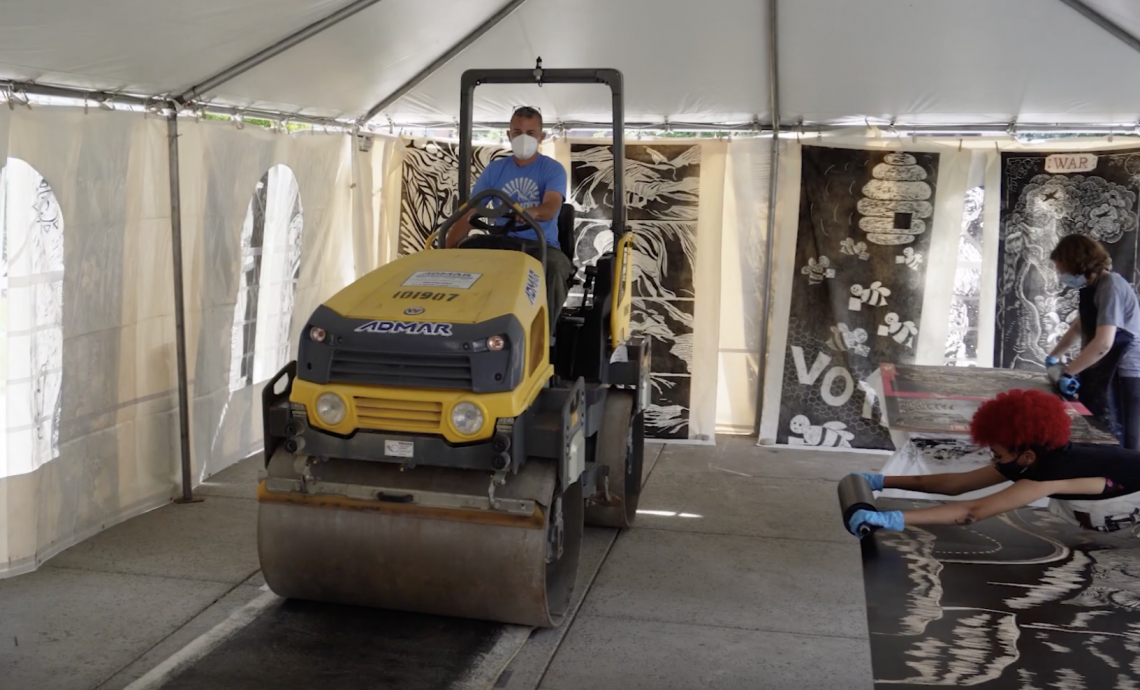 The print media and graphic art area is a leader in the field of academic printmaking. Mixed media; public artworks; installation; collaboration; and Lake Effect Editions, our professional, in-house publishing entity, contribute to making print media and graphic art well rounded and vibrant.
We have an impressive array of new media tools for the printmaker, and we continue to embrace the needs of those wishing to honor the time-tested methodologies of the field. In our state-of-the-art studios we offer courses in lithography, monotype/monoprint, etching, screenprint, relief, papermaking, letterpress, book arts, and digital printmaking. We also present an annual steamroller printing event in the center of Main Campus.
Students and faculty take group trips to New York City for such events as the International Fine Print Dealers Association Print Fair, and they also attend the Southern Graphics Council International Conference each year. Many of our graduates move to New York City after earning their degree, where they find jobs and internships in the multitude of print studios, workshops, art foundations, art galleries, and museums that the city has to offer.
Sculpture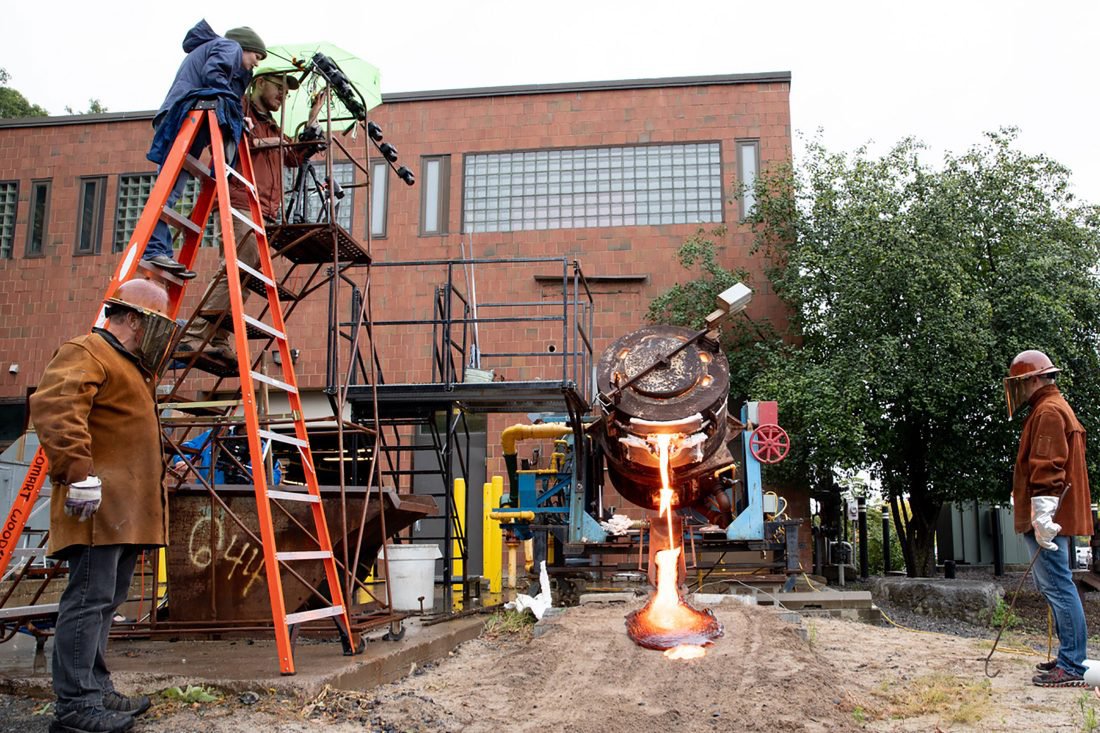 Diversity and interaction are the cornerstones of our internationally recognized sculpture intensive in our studio arts program. Our faculty consists of vital artists of national reputation who maintain an active studio experience.
The outstanding sculpture facilities are comprised of workshop areas for traditional and contemporary applications, including those for metal casting, fabrication, plasma cutting, and welding; wood and stone carving; plaster; resins; plastics; digital fabrication and 3-D printing; and a state-of-the-art wood shop. We also offer ample workspaces for assembly, project spaces dedicated to installation and performance, gallery spaces for student exhibitions, outdoor casting and large-scale fabrication capabilities, and private and semi-private studio spaces for graduate students.
Interdisciplinary Practice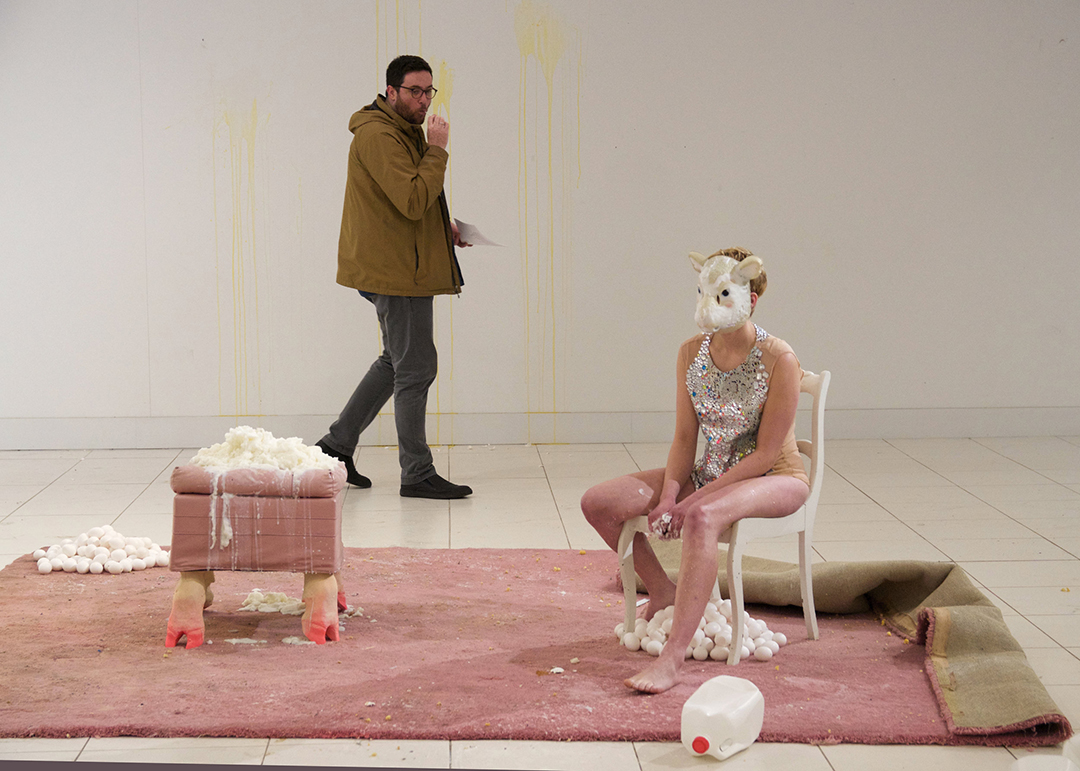 As stated above, our studio arts M.F.A. curriculum gives students the opportunity to work within one of our nationally recognized areas (ceramics, drawing, jewelry and metalsmithing, painting, print media and graphic art, and sculpture) or across disciplines, enabling graduate candidates to develop a course of study specific to their research goals. As such, our M.F.A. candidates have the freedom to utilize any or all of our outstanding facilities to manifest their work. Whether time-based, relational, performative, interactive, virtual, and/or object-based, students work in an environment that welcomes and encourages experimentation and innovation.
Additionally, being housed within a Tier 1 research university enables our students to have access to an abundance of resources and courses in many other fields of study, including performing arts; humanities; and the social, material, mechanical, and biological sciences.