Holly Greenberg
School of Art
Associate Professor, Studio Arts (Printmaking)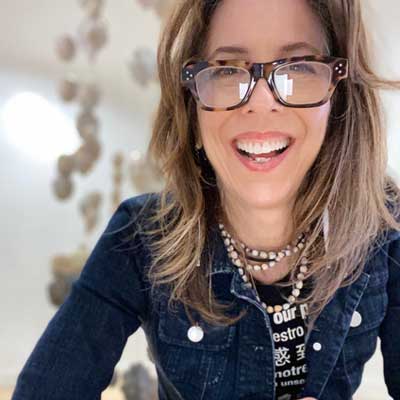 115A Comstock Art Facility
Syracuse, NY 13244-5050
Known for her non-traditional applications of printmaking, Holly Greenberg's work explores the existential questions of longing, the significance of place and the remains of this mortal coil.
The perpetual learner, Greenberg embraces the experimental discoveries when the boundaries of mediums are pushed. She has developed innovative techniques for monotype, collagraph and photo-collagraph and frequently prints on non-traditional surfaces which she combines with painting to create large-scale installations.
Fluidly moving across disciplines, Greenberg's current studio practices finds her in the ceramic studio creating multiples in a new medium: slipcast porcelain. These investigations into large- scale sculptural installation explore the moment when life leaves the body, when the plant produces the seed, when the host gives up the ghost.
Education
M.F.A., The School of the Art Institute of Chicago
B.F.A., The University of Michigan
Expertise
Etching, relief, monotype, screenprint, collagraph, book arts, papermaking, drawing, and risograph
Courses Taught
Observational Drawing Workshop
Sketchbook Workshop
Drawing a Sense of Place Workshop
Drawing I Observation Workshop
Drawing II Representation to Conceptualization Workshop
First Year Studio
Third Year Studio
Printmedia and Graphic Art: Papermaking Workshop
Printmedia and Graphic Art: Monotype/Monoprint
Printmedia and; Graphic Art: Steamroller Printing on the Quad
Introduction to Print Media & Graphic Art
Etching and Relief
Printmaking for Non-art Majors
Screenprinting
Book Arts
Advanced Print Media and Graphic Art
Visiting Artist Lecture Series
Printmedia and Graphic Art: Graduate Printmaking
Three Figures: Austen, Darwin & Greenaway
Professional Links