Deborah Dohne
School of Art
Associate Professor, Studio Arts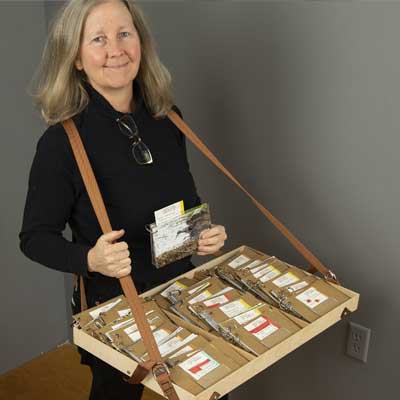 050 Comstock Art Facility
1075 Comstock Avenue
Syracuse, NY 13244-1180
Deborah Dohne defines her artistic practice as ongoing "environmental engagements" including conservation, fieldwork, activism, and making visual art.
Her work investigates sustainability and the effects of climate change on the environment, fully incorporating interdisciplinary topics and research throughout the process. Her site-specific work is an experiential narrative reflecting a direct engagement with the ecology, reclamation, and avian biodiversity of the location. Employing birds as subjects, Dohne deftly takes advantage of the power of art to inspire and provoke and embraces her role of 'artist as an agent for change'. Straddling a fine line between beauty and melancholy, the work generates both awe and concern. Material and process vary, incorporating paper, industrial waste, wood, cloth, photographs, metal, light, junk plastic, drawing, carving, and printmaking. 
 Various achievements include: Grants: New York State Council on the Arts, Artist Trust Grant, Washington State Arts Commission, Interdisciplinary Research Group, Co-leader and grant recipient. Artist Residencies: Sculpture Space, Pratt Fine Arts Center, Hastings College, Pilchuck Glass School. Washington Alliance for Arts Education Fellowship, GreeningUSA Community Advocacy Sustainability Award Recipient, Authored article, NYS Ornithological Association journal, The Kingbird and won the Levine Award for best journal article of 2019.
b. Washington, D.C. / N.Y.S.C.C. Alfred University BFA / Ohio State University MFA / Associate Professor, Syracuse University.
Education
M.F.A., Ohio State University
B.F.A., New York State College of Ceramics at Alfred University