Deborah Dohne
School of Art
Associate Professor, Studio Arts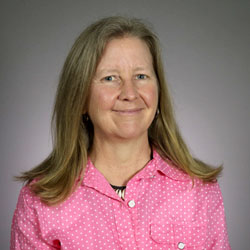 050 Comstock Art Facility
1075 Comstock Avenue
Syracuse, NY 13244-1180
Born in Washington, D.C., Deborah Dohne is a prolific visual artist whose work (primarily sculpture) brings intangible subjects into physical existence. Dohne has proficiency with many materials and processes, including glass, metal, wood, motors, and neon.
She uses this wide variety of materials to explore forces we cannot touch or see, both as physical phenomena and as subject matter. Dohne's specialty is teaching anything having to do with space, from three-dimensional design to sculpture.
An accomplished faculty member, Dohne was awarded Syracuse University's Meredith Teaching Excellence Award for tenure-track faculty. Additionally, she received a Recognition of Contribution to the Community through Excellence in Teaching Award from SU's Maxwell School. She regularly teaches FND 117 and FND 118 and is dedicated to teaching first-year students.
Dohne has exhibited nationally, including solo exhibitions at Niagara University and Gettysburg College, and group exhibitions in Seattle, Los Angeles, and New York. She has received artist grants and currently leads the Interdisciplinary Research Group at SU.
Dohne enjoys creating work in geographically diverse locations and to this end has participated as an artist-in-residence in diverse settings, including pioneering the emerging artist residency program at the internationally acclaimed Pilchuck Glass School in Washington State and on the Aleutian Island chain in the Alaska public school system in Naknek, Alaska, as well as spending several months working at Sculpture Space in Utica, N.Y. Dohne's work is part of the Corning Museum Permanent collection, Corning, N.Y., and the City Portable works Collection of the Seattle Art Commission, Seattle.
Dohne earned a B.F.A. from Alfred University and an M.F.A. from Ohio State University.
Education
M.F.A., Ohio State University
B.F.A., New York State College of Ceramics at Alfred University