Susan D'Amato
School of Art
Associate Professor, Studio Arts (Drawing)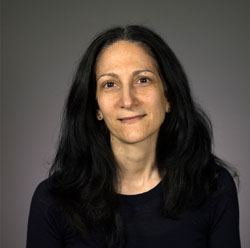 361 Shaffer Art Building
Syracuse, NY 13244-1180
Susan D'Amato is a drawing-based artist whose creative research is centered upon anthropological investigations of origin, transcendence, time and ephemeral structures of the natural world.
Her practice integrates consciousness, meditation, mindfulness, and contemplative disciplines with and through drawing process to investigate modes of perception and notions of identity. Combining representation and abstraction through traditional and digital media, her work explores metaphoric correspondences between universal forms and indexical markers of the body--navels, lips, palms, tongues, -- to examine the intricate relationships between the physical and the ethereal, the personal and the transpersonal, the intimate and the infinite. D'Amato's devotion toward image-making is grounded in her belief of the power of images to activate the unconscious and their potential to address and awaken truths and reflections of our complex and evolving human condition. 
D'Amato's work has received numerous awards and is exhibited regularly in solo and group exhibitions in nationally and internationally recognized venues. Her drawings are in the curated registry of The Drawing Center, New York, NY, and included in The Drawing Center's Line Age; fall selections 2005 exhibition and featured in its accompanying publication, Drawing Papers 55. She is the recipient of a New York Foundation for the Arts (NYFA) Fellowship in Drawing, and the Mid Atlantic Arts Fellowship in Drawing/Works on Paper, 2005. Her research has been supported by numerous residency fellowships and is included in a number of text books, catalog, and periodical publications. D'Amato received the Outstanding Faculty Award Grant in 2010, and a Research and Creative Development Leave Grant in 2018 from The College of Visual and Performing Arts, Syracuse University. She is a member of Syracuse University's Contemplative Collaborative, and is a founding member of Drawing Open International Research Collective. Currently the Collective is involved in environmental projects and initiatives to explore how the speculative nature of drawing can open up discourse about issues particular to the Anthropocene.
Education
M.F.A., University of North Carolina at Chapel Hill
B.F.A., University of Connecticut, Storrs, CT
Expertise
Drawing, mixed media, mindfulness based teaching
Course Taught
Drawing Nature

Drawing Through the Figure

Advanced Figure Drawing

Eye Hand Body Mind: Drawing

Drawing Off Paper

First-Year Studio

Drawing I: Observation
Art Practices: Capstone 1, Senior Thesis

Links