Errol Willett
School of Art
Associate Professor, Studio Arts (Ceramics)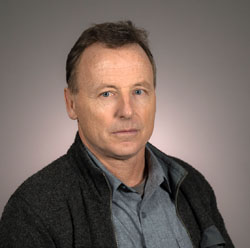 134A Comstock Art Facility
1075 Comstock Avenue
Syracuse, NY 13244-5050
Errol Willett's research comes out of a lifelong fascination with clay and its use in art, architecture and domestic space.
Ideas in his studio come from a tactile relationship with the material, from its history, and from intersections with contemporary art and design. Willett makes work in search of ideas. He is drawn to work that has a sense of expanding and contracting simultaneously, like breathing, and to work that uses structure as ornament. Recent investigations include basket forms, espaliered fruit trees and Islamic patterns. 
The other thread in Willett's work currently is a research group called Haptek Lab, made up of architects, designers, and artists looking at the intersection of ceramics, architecture and industrial production methods. The group is interested in bringing handmade qualities into industrial ceramic production at an architectural scale with the use of digital fabrication and robotics.  
Errol Willett is an Associate Professor in Syracuse University's School of Art. He served as Chair of Syracuse University's Department of Art from 2009-2012. He has an MFA degree from Penn State University and undergraduate studies in art at Univ. of Colorado-Boulder and the University of Regensburg, Germany. Residencies include the Anderson Ranch Art Center, Aspen, Colorado; AIR-Vallauris, France; and the Banff Centre for the arts in Canada.  
Projects include the permanent installation, "Overlooked Information. The Carbon Espalier;" the exhibition "Affinity," at the Incheon World Ceramic Centre, Incheon, Korea; and the installation "Staying on Good Terms with Nature," Everson Biennial, Everson Museum of Art, Syracuse, NY. Current Research into translating haptic qualities into architectural terracotta can be found at the Haptek Lab. hapteklab.com
Education
M.F.A., Penn State School of Art, State College, PA 1993

B.A., University of Colorado, Boulder, 1983
Expertise
Ceramics, glass, concrete, and wood
Courses taught
Undergraduate and Graduate Ceramics

Glass Casting/Fusing/Slumping

Capstone Thesis and Exhibition
Website link
Other professional links