Robert Wysocki
School of Art,
Dean's Leadership Team
Associate Professor, Studio Arts (Sculpture)
Director, School of Art
Doris E. Klein Endowed Professor of Art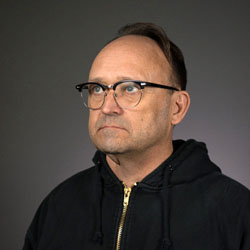 010D Comstock Art Facility
1075 Comstock Avenue
Syracuse, NY 13244-5050
Robert Wysocki is an artist working in a wide range of media, contemplating the landscape, the sublime, and the hero.
Wysocki is currently making a non-fiction film chronicling the evolution of his sons' journey from boys into men through the language of baseball as he trains them.
In 2009 Robert Wysocki created the Syracuse University Lava Project with Professor and Chair Dr. Jeffrey Karson of the Department of Earth Sciences. In 2010 he successfully created large amounts of melted basalt, lava. The authenticity of the lava – qualities and characteristics of lava occurring in nature – attracts volcanologists from around the world to Syracuse to conduct lava flow research.
Wysocki has used the act of creating and pouring lava as performance art in Toronto, Canada; Reykjavík, Iceland; London, England; and Syracuse. Prior to the lava research Wysocki created full-scale sand dunes in galleries and museums in Los Angeles; Huntington Beach, California; Tampa, Florida; and Toronto; he has been shown in New York; Los Angeles; Tampa; Las Vegas; Reno, Nevada; Toronto; London; and Seoul, South Korea, to name a few.
Wysocki was named the 2013 Judith Greenburg Seinfeld Scholar and 2014 a VPA Distinguished Faculty member. Wysocki was a 2016 recipient of the John Michael Kohler Arts/Industry Residency.
In 2018 Wysocki was named an affiliated faculty member of the Department of Earth Sciences. In July 2020 he will begin an appointment as the director of the School of Art.
Wysocki received a bachelor's degree in architecture from the University of California Berkeley and an M.F.A. in sculpture from Yale University. Wysocki lives in Syracuse with his wife Jenny and sons Max and Jack.
Education
M.F.A., Yale University
Bachelor's degree, University of California Berkeley