Sam Van Aken
School of Art
Associate Professor, Studio Arts (Sculpture)
Associate Director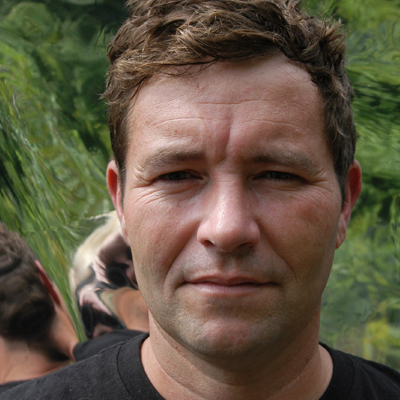 013 Comstock Art Facility
1075 Comstock Avenue
Syracuse, NY 13244-1180
Sam Van Aken is a contemporary artist who works beyond traditional modes of artmaking, crossing artistic genres and disciplines to develop new perspectives on such themes as agriculture, botany, climatology, memory, and the ever-increasing impact of technology. Van Aken's works in the natural and public realm are seen as metaphors that serve as the basis of narrative, sites of place making, collective learning, and in some cases have even become the basis of scientific research.

Born in Reading Pennsylvania, Sam Van Aken received his undergraduate education in Art and Communication Theory. Immediately following his studies he lived in Poland and worked with dissident artists under the former communist regime through the auspices of the Andy Warhol Foundation and the United States Information Agency. Van Aken received his MFA from the University of North Carolina at Chapel Hill and since this time his work has been exhibited and placed nationally and internationally. He has received numerous honors including a Joan Mitchell Foundation Award, Association of International Curator's of Art Award and a Creative Capital Grant. Most recently, his work has been presented as part of Nature-Cooper Hewitt Design Triennial with the Cube Design Museum, Netherlands as well as at the 2020 World Economic Forum in Davos, Switzerland. His most recent work, the Open Orchard is set to unveil summer 2021 on Governor's Island, New York City. Sam Van Aken lives and works in Syracuse New York, where he is currently an Associate Professor in the School of Art at Syracuse University. His work is represented by Ronald Feldman Fine Arts.
Sam Van Aken full Curriculum Vitae [Word]
Education
M.F.A., University of North Carolina, Chapel Hill
Expertise
Sculpture and three dimensional arts, installation, site-specific sculpture, environmental art, public art, social practices, sound art, art theory, and professional practices.
Courses Taught
Arts in Context

Graduate Critique 1: Practice in the Visual Arts

Berlin Graduate Semester Residency

Summer Graduate Residency: Governors Island

Visiting Artist Lecture Series

Graduate Seminar 2: Professional Practices

Graduate Seminar 1: Theory and Ideas

London Graduate Semester Residency

Graduate Seminar 4: Thesis Exhibition

School of Art Atelier

Graduate Critique: Practicing in Public

Sculpture Research Problems

Public Memory Seminar

Advanced Sculpture

Intermediate Sculpture

Foundry/Metal Casting

Metal Dynamics: Welding and Fabrication

Figure Sculpture

Dimensional Arts: 3D Design

Sculpture 1

Sculpture 2

Plastics Techniques Research

Installation Art