Jude Lewis
School of Art
Associate Professor, Studio Arts (Sculpture)
Program Coordinator, Studio Arts M.F.A.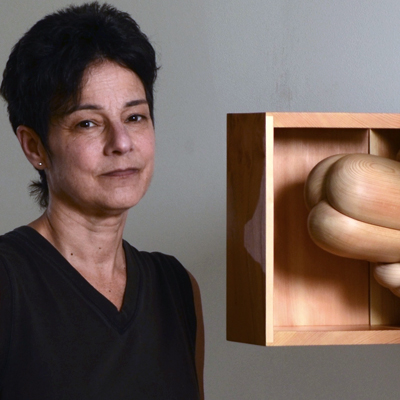 017 Comstock Art Facility
1075 Comstock Avenue
Syracuse, NY 13244-5050
Jude Lewis' recent and current work is centered around desire. Desire is a vast concept that has long been examined within every discipline, but Lewis' work is pointing simply to the desire to know.
Lewis is fascinated by what we are and are not permitted to know during our time here on earth. The perceived power and control that we gain by acquired, or "permitted", knowledge is swiftly and humbly brought to its knees when we are faced with the unknowable, the most daunting of which is the how and when of our and our loved ones' mortality. The ways that we argue with, surrender to, distract, and bargain with these itchy unknowns is at the heart of Lewis' current work.
Education
M.F.A., State University of New York at Albany
B.F.A., School for American Crafts, Rochester Institute of Technology
Expertise
Object-making, wood processes and techniques
Courses Taught
Graduate Critique Seminar
Graduate Thesis Writing Seminar
Constructing Memory
Functional Sculpture
Wood & Mixed Media
Advanced Sculpture
 Intermediate Sculpture
Dimensional Arts