Peter Beasecker
School of Art
Professor, Studio Arts (Ceramics)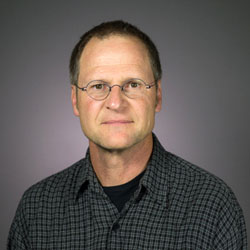 138 Comstock Art Facility
1075 Comstock Avenue
Syracuse, NY 13244-5050
Peter Beasecker has devoted his 2020 studio practice to solely making bowls, specifically soup bowls to donate to the various Empty Bowl events throughout the country.
This was a pre-covid decision, made during the exhale of the annual Syracuse Empty Bowl event. Focusing within the limits of the bowl has energized and deepened his interest in this singular idea. One of Beasecker's mandates is not to repeat himself – which is counter to the impulses of muscle memory accrued over decades of making. This project has made room for unexpected riches, most notably, allowing for a playful engagement of form.
Beasecker joined Syracuse University's VPA faculty in 2009, after a seventeen-year tenure at the Meadows School of the Arts at Southern Methodist University. He is a Professor of Art and Ceramics area coordinator. Beasecker has received numerous awards and distinctions throughout his career, most notably from The New York Foundation for the Arts, The National Endowment for the Arts, and The Ford Research Fellowship (SMU). His work has been exhibited in national and international venues, and is included in the collections of the Renwick Gallery of the Smithsonian Institution, The Minneapolis Institute of Art, the Mint Museum in North Carolina and the Everson Museum of Art in Syracuse. Throughout his career he has been a visiting artist and workshop leader at over sixty institutions, including Anderson Ranch, Arrowmont School of Arts and Crafts, Haystack Mountain School of Crafts, and the Penland School of Crafts. He has been an artist in residence at the Archie Bray Foundation, Watershed Center for the Ceramic Arts and the Pottery Workshop in Shanghai, China. Since 1996,Beasecker has been the co coordinator of the Utilitarian Clay Symposium at Arrowmont. His rural studio is outside of Cazenovia, New York.
Education
M.F.A., Alfred University
B.S., Miami University
Courses Taught
Introduction to Wheelthrowing
Ceramic Handbuilding
Intermediate and Advanced Ceramics
Clay and Glaze Technology
Wood-fired Ceramics
First Year Studio: Divergence/Convergence
Third Year Studio
Graduate Thesis Writing
Graduate Critique Seminar