All of the School of Design's programs are housed in the Nancy Cantor Warehouse, Syracuse University's seven-floor building located in downtown Syracuse.
The Warehouse's open, industrial space was renovated to contain professional studio facilities for each design program; two shared computer labs; a printing lab; and Design Works, a fabrication lab. A student lounge, café, and the Sue & Leon Genet Gallery are conveniently located on the first floor.
The Warehouse has a security desk staffed by Community Service Officers of the University's Department of Public Safety Monday through Friday, 7 a.m. to 11:30 p.m. Students also have continually running shuttle bus service to and from Main Campus, including express service.
---
Warehouse Facilities

Wood Shop
The Warehouse woodshop offers a range of woodworking equipment. Tooling includes two sawstop table saws, two wood lathes, and the university's largest planer/joiner, as well as a full range of stationary and hand-held woodworking equipment. Knowledgeable shop technicians staff this shop full time, and all students and faculty who have received the appropriate shop authorization are welcome to utilize this space during shop hours.
Metal Shop
The Warehouse metal shop is staffed full time by knowledgeable shop technicians. All students and faculty who have received the appropriate training are welcome to utilize this space during shop hours. Tooling in this shop includes MIG, TIG, and gas welding setups, as well as a plasma cutter. There are also cold-forming tools such as a jump shear and a bending break, as well as other standard stationary metalworking tools. The space also houses a state-of-the-art metal lathe and vertical mill for cutting metal with extreme precision.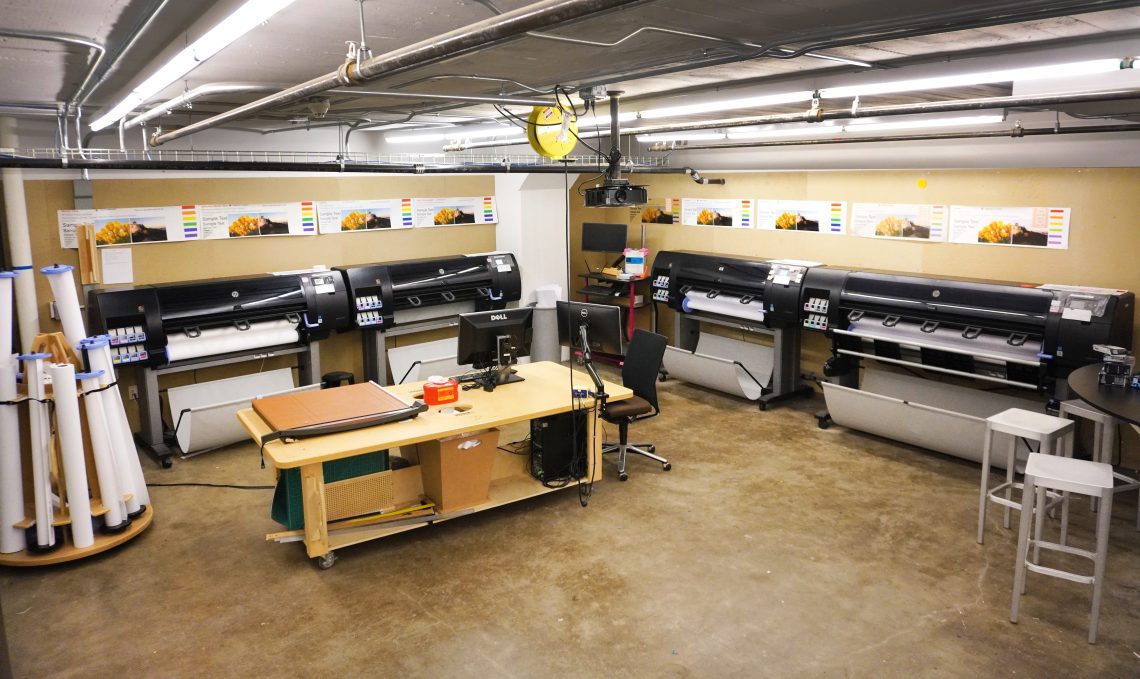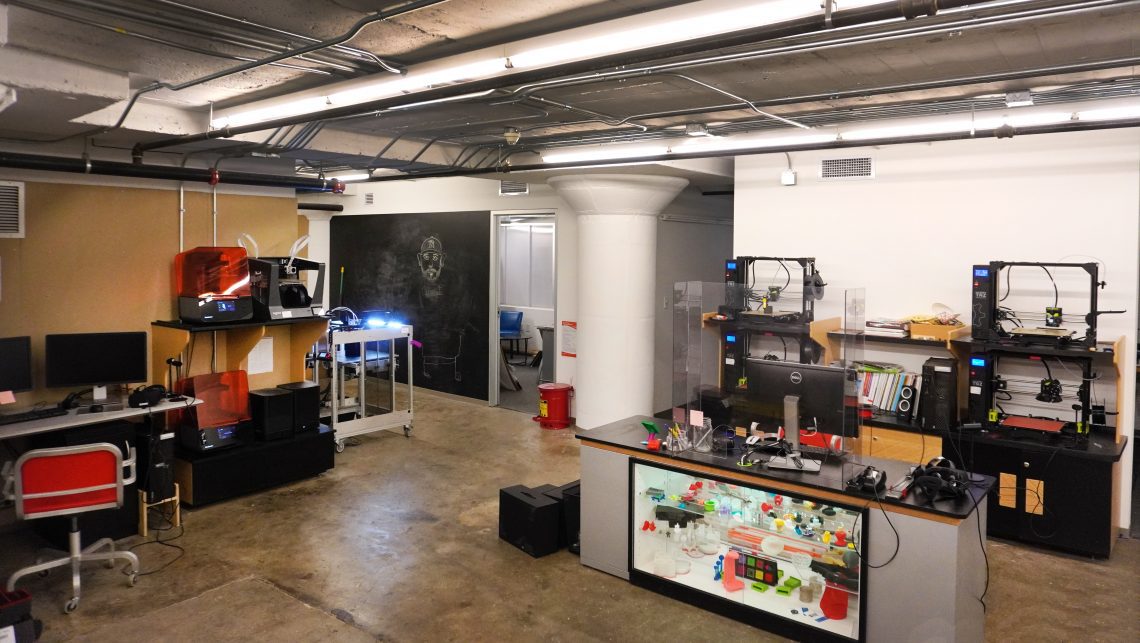 Digital Output
This space offers 2D and 3D digital output with five large-format printers that can print up to 58" wide on a variety of print media, including clear acetate and adhesive-backed vinyl. 3-D output includes both SLA and FDM 3-D printing in a variety of colors and print media. There is also a large-format FDM printer with a print envelope of 23.5" x 23.5" x 23" for very large prints. The print lab also houses a vinyl cutter, 3-d scanners, VR headsets that students can check out and take to their studios to use, as well as a VR cave. Housed in a separate room are two Universal brand laser cutters (18" x 32" print bed) and two Techno brand CNC mills. All students can submit files to be run by shop technicians.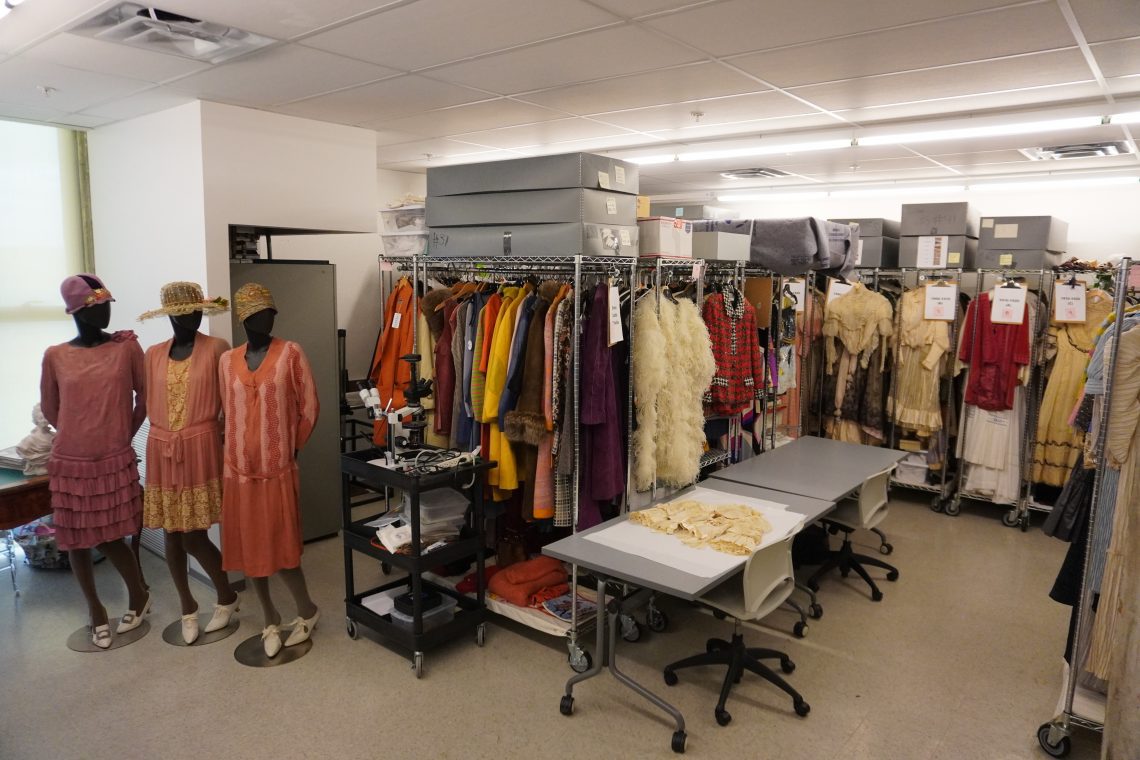 Sue Ann
Genet Costume Collection 
The Syracuse University historic clothing collection, established in the 1930's, is now known as the Sue Ann Genet Costume Collection as it was funded in the 1980's by Syracuse Alumnus Leon Genet in memory of his wife, a textile artist and sculptor, Sue Ann Genet. The Collection is curated by Jeffrey Mayer, Professor/Program Coordinator of Fashion Design at Syracuse University.
The collection, featured in two books; Vintage Details and 500 Patterns, as well as being regularly referenced for Threads Magazine, is housed within the fashion design program, and is comprised of over 3,000 garments and accessories from 1820 to the present. Several gallery shows of pieces from the collection are put on each year, and students can access the collection for research and inspiration.

Fashion Design Floor
Fashion Design students design and make the garments for their class on the seventh floor of the Warehouse. Students are provided with all of the necessary facilities including cutting tables, industrial sewing machines, sergers, and professional dress forms.