Based in the School of Design, the Sue & Leon Genet Gallery hosts exhibitions curated or consisting of work by the school's students, faculty, and alumni. Exhibitions are presented during the academic year.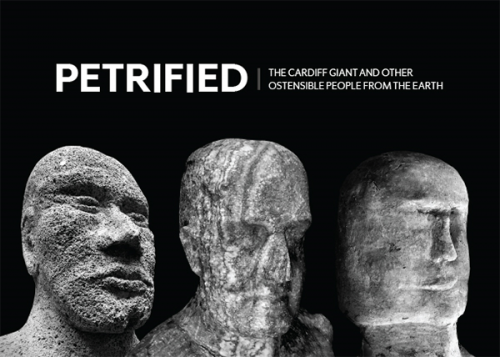 Current Exhibition
PETRIFIED: The Cardiff Giant and Other Ostensible People from the Earth
In October of 1869 a petrified figure over ten feet in length was unearthed on a farm in the hamlet of Cardiff, NY. Dubbed "The Cardiff Giant," the oddity became an overnight sensation. In celebration of the 150th anniversary of the giant's discovery, this exhibit explores the history of the giant and its many derivatives through rarely seen photographs, artifacts from the period, a comprehensive retrospective of more than forty other petrified giants currently known, and a full-scale reproduction created by local artist Ty Marshall.
Curated by Stephen Singer G'21, Graduate Program in Museum Studies.
Gallery Reception
Thursday, November 14, 6:00 – 8:00 p.m.
---
About the Sue and Leon Genet Gallery:
Based in the School of Design at the Nancy Cantor Warehouse, the Sue & Leon Genet Gallery is a student-managed space hosting exhibitions from the school's students, faculty, and alumni. Programing seeks to engage the University and downtown Syracuse community with exhibitions inspired by and related to the field of design. Public gallery hours are Monday through Saturday, noon to 5:00 pm., or by appointment.
Contact
First Floor
The Nancy Cantor Warehouse
350 West Fayette St.
Syracuse, NY 13202
315.443.2455