Based in the School of Design, the Sue & Leon Genet Gallery hosts exhibitions curated or consisting of work by the school's students, faculty, and alumni. Exhibitions are presented during the academic year.
Upcoming Exhibition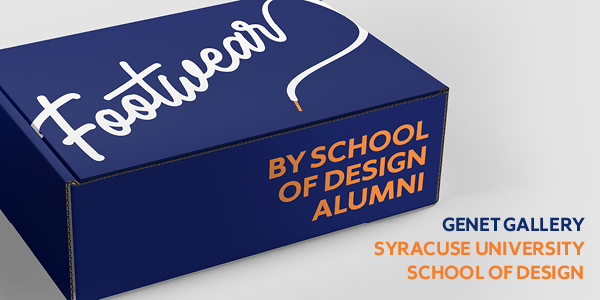 Footwear by School of Design Alumni
January 23-March 3, 2023
Reception, Friday, February 24, 6-8 p.m.
The School of Design in the College of Visual and Performing Arts has a long history of graduates working within the footwear industry. This exhibition showcases these talented designers' experiences, philosophies, and approaches to footwear design. Included are product examples ranging from athletic gear to designer shoes to specialized equipment for space capsule missions. The designers represent a wide network of industry from brands that include Nike, New Balance, Clarks, Under Armour and numerous others.
Organized by Professor Don Carr and Assistant Professor Carmel Nicoletti, the exhibition features the work of over 20 designers representing over 50 years of alumni from the School of Design's industrial and interaction design (IID) program in conversation with current IID students, who were tasked with researching and interviewing the participating alumni to inform the creation of shoeboxes meant to reflect the personality and process for each designer.
About the Sue and Leon Genet Gallery
Based in the School of Design at the Nancy Cantor Warehouse, the Sue & Leon Genet Gallery is a student-managed space hosting exhibitions from the school's students, faculty, and alumni. Programming seeks to engage the University and downtown Syracuse community with exhibitions inspired by and related to the field of design.
Public gallery hours are Tuesday through Friday, noon to 5 p.m., or by appointment.
Contact
First Floor
The Nancy Cantor Warehouse
350 West Fayette St.
Syracuse, NY 13202
315.443.2455