Product Name: HEAL
Topic/problem description: 
Accidents happen. At home, at the office, at the job site and usually where you least expect it. First aid kits have been around since the late 1800's (Johnson and Johnson History,) and people still don't know how to use them effectively. According to a study done by the National Safety Council, a worker is injured on the job every seven seconds. This adds up to millions of working days lost to injuries (National Safety Council.)
With job injuries happening all the time there are workers who are confused about what to do when a minor accident happens. A study done by an UK medical company showed that three out four people did not know how to administer basic first aid and that half of reported injuries worsened because of incorrect treatment (Imperative Training company.)
First aid and first aid kit problems also transfer into the home. Four out of 10 homes contain expired antibiotic products (May Wakefield Research.)  Lack of proper instruction and usable first aid kits leads to poorly-treated accidents in the home and at work. During a usability test I conducted with a standard first aid kit that met OSHA regulations, users described two difficulties. First, the kit was disorganized, so users who knew what they needed could not find the correct supplies. Second, users who didn't know how to treat an injury could not effectively find instructions, and the provided instructions were difficult to understand. During a second usability test, users explained that because continually restocking a kit is unrealistic, they would prefer to buy a new one. With these ideas in mind, how might we design first aid kits to be effective and easy to use?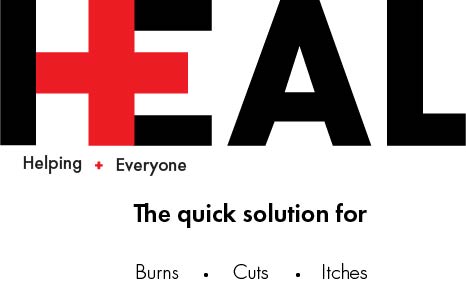 Solution:
The solution is building a minimalized quick care kit that is completely single use. These will be made with recyclable materials so that the amount of waste is close to zero.  A single-use kit will minimize the frustration of having to organize or re-stock a larger first aid kit.
Each kit will consist of an informational poster mounted with four small tear-away cardboard boxes. This design makes accessing what the user needs for a particular injury very simple and straightforward. There will be kits specialized for cuts, burns and rashes or insect bite. Each tear-off box will contain the specific supplies needed to treat a cut, burn or rash.
When a user tears off and opens up either the Burn, Cut, or Itch kit, he or she will find simple infographics on how to apply the supplies, eliminating any confusion about how to treat someone.
The informational poster will also contain instructions on how to find additional kits, more advanced first aid, and how to contact emergency services.