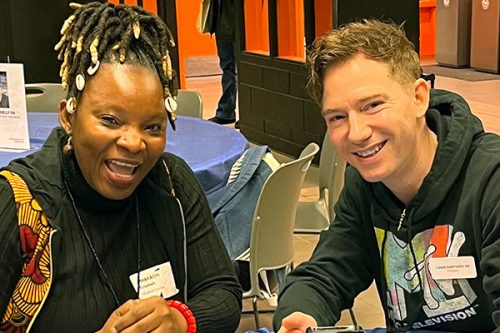 On March 24, the College of Visual and Performing Arts' (VPA) Office of Academic and Career Advising hosted its second annual VPA Industry Day in partnership with Syracuse University Career Services. Eighteen alumni and industry professionals came to campus to meet with students for panel discussions, information sessions, portfolio reviews and a networking lunch.
The event was open to both undergraduate and graduate students from across VPA's schools and departments. Students who registered and attended had the opportunity to win a pair of Nike sneakers with a custom Syracuse design by Alex Alpert '16, creative director of OneOf.  With 119 students in attendance, VPA Industry Day was the University's highest attended career event outside of its larger career fairs.
Students benefitted from the chance to speak one-on-one with the alumni and industry professionals, make connections and ask questions
"Syracuse has some amazing alumni with a variety of experiences," says Fabiana Suarez '23, a communication and rhetorical studies major who attended the event. "They seemed more than willing to connect with students and offer advice."
Alumni who participated in Industry Day included:
Alex Alpert '16, creative director, OneOf
Matt Britten '07, CEO, Broadway Brands
Steve Brown, founder and sound engineer, Brown Master Mix
Thomas Cheng '22, associate account management specialist, Epsilon
Arielle Cohen '22, junior copywriter, Havas Health & You
Craig Donnelly '99, design director, First Tube Media
Jason Evanko '15, technical director, freelance
Evan Fonseca '13, freelance writer, Trusted Media Brands
Michael Gursha '10, CEO/co-founder, Rookie Road
Lauren Kanungo '08, interior designer, Michael Graves Architecture & Design
Kristen Krauss, associate director of chamber music, The Rivers School Conservatory
Kyle Kuchta '13, director and producer, OTC Industries
Colin Lange '99, general manager, Midwest, Landor & Fitch
Ayana Patterson '06, design strategist
Ashley Recuparo '08, director of denim, EXPRESS
Louis Santoro '08, screens and programming manager, Paramount
Jonalyn Saxer '14, actress, "Mean Girls" (national tour)
Iting Christina Trout '10, director of marketing and communications, Growing Good Works, Inc.
For more information about Industry Day, or if you are a VPA alumnus and want to participate in a future Industry Day, contact VPA Career Services at .