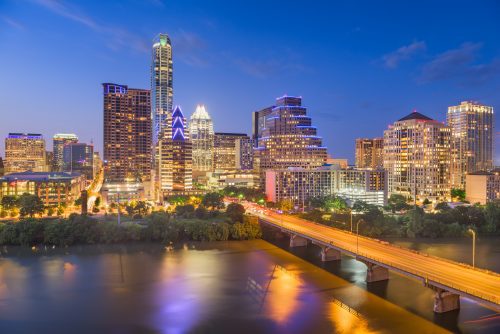 Ten students in the College of Visual and Performing Arts' (VPA) Rose, Jules R. and Stanford S. Setnor School of Music will be heading to Austin, Texas, during Spring Break (March 13-17) for the South by Southwest (SXSW) conference and music festival as part of Gilbert Week, the school's annual professional development immersion experience.
Established in 2013 by Dennis Gilbert '73 and Nancy Shapiro Gilbert '74, Gilbert Week allows Setnor students to learn about the wide variety of career opportunities in music from Syracuse University alumni and other industry professionals in a culturally rich city. Previously held in New York City, the immersion was recently expanded to offer additional cities on a rotating basis, including Austin, Los Angeles and London.
In discussions with Dennis and Nancy, we talked about expanding Gilbert Week to provide a wider range of experiences for our students," says Milton Laufer, director of the Setnor School. "These new cities are of interest to our students and home to many successful alumni in the music business. We're excited to partner with the Gilberts on this re-envisioning of Gilbert Week and are grateful for their continued support."
Under the guidance of Jim Elenteny, assistant teaching professor of sound recording technology in Setnor, and Jackie Flores, VPA's assistant director of career development, the students will attend the music conference during the day and the music festival in the evening. The conference portion includes panels, discussions and presentations on a variety of industry topics, including artist rights, touring, publishing, marketing, streaming, mental health and diversity. Small group mentoring sessions with industry professionals will also be offered.
Flores will meet with the Gilbert Week students prior to the trip to provide guidance on networking in a fast-paced conference environment, such as developing an "elevator pitch" to quickly showcase skills to potential employers.
Follow VPA on Instagram @su_vpa to see what the Gilbert Week students are up to during SXSW.