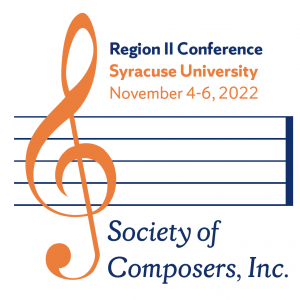 Syracuse University | Setnor School of Music
SCI Region II Conference
November 4-6, 2022
About
In the fall of 2022, Syracuse University's Setnor School of Music will host the Society of Composers, Incorporated Region II Conference. This conference is the first SCI Region II conference to be held since 2006. Region II includes SCI members from New York, New Jersey, and Puerto Rico. Interested in becoming a member of SCI? For more information, please visit https://wp.societyofcomposers.org/.
Our conference will feature several calls for scores, as well as panel and project proposals. We are partnering with Central New York's Society for New Music and Symphoria! for this multi-day event. Our guest artist, composer Nilo Alcala, will be the featured composer of the choral concert and will give a pre-concert talk.  
Schedule
The conference will begin with a concert on the evening of Friday, November 4. Activities on Saturday, November 5 include concerts, panels, and networking opportunities. The conference concludes on Sunday, November 6 with a 4:00 p.m. choral concert by Syracuse's University Singers in Hendricks Chapel.
The full schedule will be posted on this site in the spring of 2022. 
Calls for Scores, Presentations, and Proposals
The conference includes a variety of calls for scores and proposals, due February 15, 2022. SCI members are invited to send up to two submissions to the conference.
More information can be found on the SCI website. 
Registration
The conference will offer a menu of virtual and in-person registration options. Our registration page will be posted in the spring of 2022. 
---
Helpful Links