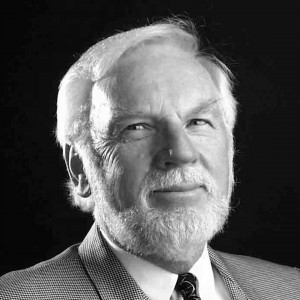 The School of Design in the College of Visual and Performing Arts is remembering alumnus Robert I. Blaich, a renowned innovator and industrial designer who died on Sept. 14 in Aspen, Colorado, at the age of 91.
Blaich's long career in international design management encompassed the diverse activities of industrial design, facilities design and corporate communications management. After graduating from Syracuse University in 1952 with a bachelor of fine arts degree in industrial design, he worked for Herman Miller Inc., where he eventually became vice president of corporate design and communications. He went on to become senior managing director of design at Royal Philips Electronics in the Netherlands and established himself as an innovator in the industrial design field. After retiring in 1992, he moved to Aspen and established Blaich Associates, serving as principal consultant.
Blaich was a fellow of the Industrial Designers Society of America and the Royal Society of the Arts and Industry in the United Kingdom. He lectured internationally, served as a juror in many international design competitions, and authored several books and articles. He also served as chair of Teague Design, the oldest industrial design firm in the United States. In 1991 he was knighted by Queen Beatrix of the Netherlands.
An active and supportive Syracuse University alumnus, Blaich served as a visiting professor for the School of Design's industrial and interaction design (IID) program and donated many books to the school. Syracuse University Libraries holds a collection of his papers. In 2013, the school's Genet Gallery recognized the importance and impact of his 60 years in the design field with the exhibition "The Design Impact of Robert Blaich." He received an honorary doctorate from the University in 1990 and was a past member of the VPA Council. In 2001 he was honored as a Letter Winner of Distinction by the Varsity Club.
"Throughout his career, Bob was one of a select group of designers that carved out a reputation for his astute leadership skills," says Don Carr, professor and program coordinator of the IID and M.F.A. in design programs. "His gift for creating a climate in which great design was supported, nurtured, and allowed to flourish was uncanny, and his boundless energy was contagious.  Always quick to acknowledge and celebrate the efforts of others, his presence on the world design stage will be deeply missed; however, his spirit and influence are destined to continue on for generations."
Blaich's survivors include his wife, Jan, a 1954 graduate of Syracuse University. Read his full obituary in the Aspen Times.