Harry Castle
Department of Drama
Assistant Teaching Professor, Musical Theater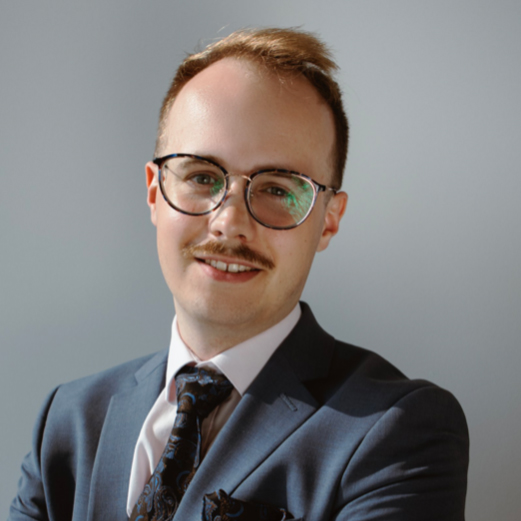 Syracuse Stage/Department of Drama Theater Complex
820 East Genesee Street
Syracuse, NY 13210-1508
Harry Castle is a British composer, tenor, and music director who works at the intersection of contemporary classical, pop, jazz, and musical theater genres.
As much in demand for his electronic music as his musical theater work and pop/jazz originals and arrangements, Castle maintains a busy schedule of projects and commissions across a wide spectrum of musical styles. Some ongoing projects include State of Motion, an original musical exploring competition and success in the fashion influencing industry through the lens of a queer neurodivergent relationship, and I am your mother; this is your home, an extended work for soprano and ensemble, conceived and written in collaboration with t.r.h. (torri) blue, a Michigan-based writer, poet, artist, photographer, and advocate.
Castle is an experienced vocalist, with training in classical, choral, pop, musical theater, and jazz styles, as well as extended vocal techniques. Some recent performance highlights include Handel's Messiah with Apollo's Fire, performing solos in Craig Hella Johnson's Considering Matthew Shepard with the U-M Chamber Choir, and touring with the Yale Schola Cantorum. Harry recorded six albums for Harmonia Mundi USA with the Choir of Clare College, Cambridge, and works regularly as an ensemble vocalist and vocal coach.
As a music director, Castle has worked with many ensembles and casts: he particularly enjoys projects involving new work in contemporary classical, musical theatre or jazz idioms. Some recent highlights include a workshop performance of Siluetas by Robi Hager & Erlina Ortiz (U-M New Works Festival), Take Flight, a concert of brand new vocal and instrumental jazz at the U-M Museum of Art (Touch of Blue: New American Vocal Ensemble), and a concert of his own musical theater work, Isn't It Queer? (McIntosh Theatre, Ann Arbor).
A passionate educator, Harry brings his practical experience and poly-stylistic expertise into the classroom. College-level classes he has taught include composition for non-majors, aural skills for music majors, theory and ear training for musical theater majors, and musical theater composition. Castle is well-versed in Western music theory and musicology but finds the most joy leading classes on topics such as vocal jazz arranging, the history of musical theater, vocal jazz and contemporary a cappella ensemble skills, and musical theater ensemble techniques. 
Castle's music has been heard at the BBC Proms, the New World Symphony, the Rhode Island International Film Festival, the National Centre for Early Music and the Edinburgh Fringe Festival, and has been performed by Eleni Katz, the University of Michigan Chamber Choir, the Marea Duo, the Albatross Duo, Margaret Lancaster, the Yale Symphony Orchestra, the Da Capo Chamber Players, the English Cornett & Sackbut Ensemble, and chamber ensembles of the BBC Symphony Orchestra and Aurora Orchestra. Awards include: U-M Brehm Prize for Choral Composition, Made at the Red House Residency (Wild Plum Arts/Britten-Pears Foundation), Special Jury Prize (Yale in Hollywood Film Festival), Zodiac International Music Competition (Finalist), BBC Proms Young Composer of the Year, National Centre for Early Music Young Composers' Award (Finalist), Clare College Carol Competition, Outstanding Arrangement Award (International Competition of Collegiate A Cappella), Paul Mellon Fellowship (Mellon Foundation).
Castle's music is published in the Kurt Weill Foundation's Lotte Lenya Songbook, and by Murphy Music Press.
Education
D.M.A., University of Michigan (anticipated 2024)
M.A., Yale University
B.A., Clare College, University of Cambridge