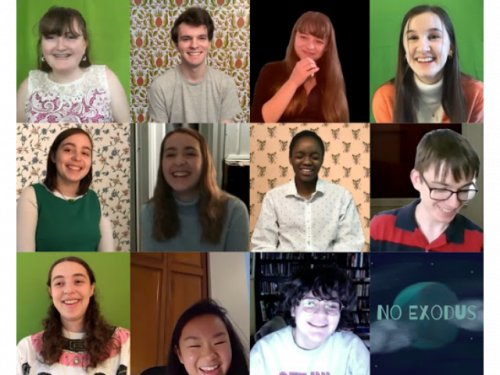 Growing up, Alethea Shirilan-Howlett '24, a senior at Jamesville-DeWitt (J-D) High School and an incoming first-year drama major (theater management track) in the College of Visual and Performing Arts, dreamed of being an actress. After attending a pre-college arts program at Brandeis University in July 2018, she was inspired to pursue playwriting.
That summer, Shirilan-Howlett spent time immersing herself in the music of and documentaries on the iconic 1960s folk rock group The Mamas and the Papas. "I was completely enthralled with the band story and decided I wanted to write a play about a band," she says. On Sept. 1, 2018, she put pen to paper.
Nearly two years later, her first full-length play, "No Exodus," will come to life for the public. Performed by the J-D High School Drama Club and directed by Shirilan-Howlett, the play's premiere will stream on YouTube on Sunday, June 7, at 7 p.m. (and will be available in the days following). Originally intended for a May unveiling on stage, the play has been transformed into a virtual performance due to the COVID-19 pandemic and the physical closure of public schools. Shirilan-Howlett and her colleagues have designated the play as a fundraiser for the CNY Arts Young Artists Scholarship Fund.