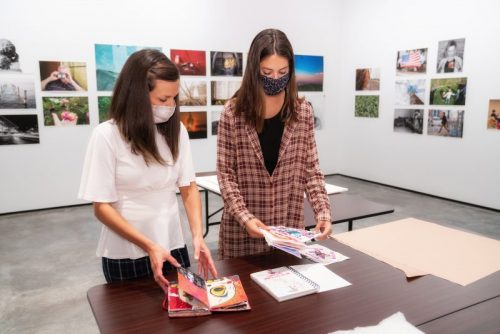 Imagine you are walking through the woods and come upon a wide, deep chasm. Your imaginary self has powers of any nature, so now picture yourself crossing the chasm by whatever means you'd like. If you were to put pen to paper and draw this scene, you'd have the basic building blocks for a conversation in art therapy, says Emily Nolan, professor of practice in Syracuse University's College of Visual and Performing Arts (VPA).
Nolan will design and teach courses in the college's new master's program in art therapy. "One of the therapeutic properties of art is that it allows for externalization—what one creates, and the experience one has of creating, can lend insight into other aspects of one's life and outlook," she explains. In this case, for example, the method one chooses to cross the chasm and details in the drawing provide a way to understand one's approach to handling real-life challenges.
The master of science in art therapy is the inaugural degree offering in VPA's recently established Department of Creative Arts Therapy, which will welcome its first cohort to the hybrid, low-residency program in Fall 2021. "The department exemplifies the University's commitment to interdisciplinary collaboration and innovation," says Professor Jennifer DeLucia, who spearheaded the department's development and now serves as chair.