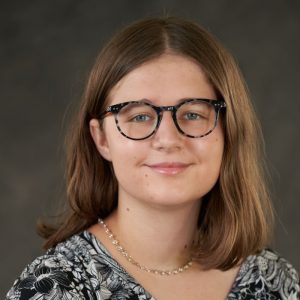 Sophia Stokoe, a dedicated student with plans to graduate in 2024, is a rising sophomore in the communication and rhetorical studies (CRS) program this fall. Stokoe first heard about the program through a friend of a  friend—a graduate student in the department.
Having heard that Stokoe was searching for a major that aligned with her interests, the graduate student reached out and chatted with Stokoe about what CRS had to offer. Stokoe states that the student "had a lot of great things to say about CRS! Our conversation really helped me make my decision about what major to apply for. It also made me excited to join the CRS program!"
Stokoe states that while she does not currently have a particular area of study she's focusing on in the program, as she is still exploring her interests and options, she confidently believes that no matter what she ends up choosing, the skills she has learned so far "will be useful." Similarly, while Stokoe understandably isn't ready to commit to a specific path or plan post-graduation, she is confident that her time at CRS will prove fruitful through her job search.
"I do think that my skills from CRS will help me with the career that I'll pick in the future," Stokoe says, "This last year I've learned a lot of research skills as well as how to properly appeal to a target audience, both of which are skills that can be applied to multiple different jobs."
Although Stokoe is relatively new to the CRS program, she says that one of her favorite parts of being in the program is how much the professors care about their teaching and how they share their passion and enthusiasm for the subject with their students. Stokoe explains, "This aspect is refreshing and makes me want to learn more about the topics that the professors have dedicated so much time and passion towards. It gives me a more understanding perspective to go off of when learning rather than just blandly trying to learn information for the sake of it."
Not only did the CRS program make a positive impact on Stokoe during her first year, but Stokoe also made a positive impression on members of the CRS community. Kendall Phillips, the professor of Stokoe's favorite class within the program, says, "It is probably easy for students to think they are completely invisible in a large lecture class, let alone one that is online. But Sophia really stood out. She was responsive and engaged and always made comments that helped move the conversation forward. Her work in 287 was very impressive, and I think her presence in class made it better for everyone involved."
In this course, CRS 287: Foundations of Inquiry in Human Communication class, Stokoe enjoyed not only Phillips' style of teaching but also his choice to bring in several CRS alumni to interview. Stokoe found hearing them talk about the "many practical uses of the major and…their own career path" to be an incredibly valuable experience. "It opened my eyes to just how many options I have career-wise after I graduate," Stokoe says, excited for her future in the CRS program.
–This article was written by the CRS student news team. Contact the team at .