Natalie Weathers is a second-year communication and rhetorical studies (CRS) graduate student from Southside Chicago. As a graduate student, she serves as a C.A.R.E facilitator, enabling conversations that focus on the topics of race and ethnicity.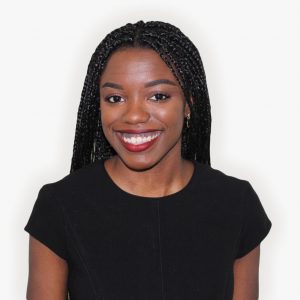 Weathers has also served as an assistant resident director and is currently involved in Alpha Kappa Alpha Sorority, Inc., the oldest Greek-letter organization established by African American college-educated women, as well as BGSA: Black Grad Student Association.
In addition, Weathers serves as a teaching assistant for CRS 225: Public Advocacy, CRS 287: Foundations of Inquiry in Human Communication, and CRS 325: Presentational Speaking. As a teaching assistant, she enjoys interacting with CRS undergraduates, being able to assist them in any way possible, as well as seeing her students grow and engage with the curriculum.
"With CRS 225: Public Advocacy, I had a lot of first-year [CRS] students, and it was my first semester as a graduate student, so I felt like we were both teaching and building off of each other," Weathers says. "Over time, you start to see the personality and confidence come out in their speeches and writing. I love seeing the personalities of my students and how each individual develops a sense of creativity. Honestly, it is the relationships that are built that make being a teaching assistant both interesting and entertaining."
Weathers' roles as a C.A.R.E facilitator and teaching assistant have supplemented her research interests of Pan-African rhetoric and Black American Pride. Her thesis is inspired by the Black Lives Matter movement, where she plans on integrating these two topics as well as the principles of Afrofuturism and Black Utopian thought.
"My thesis is featuring concepts of Afrofuturism and Black Utopian thought," she says. "These ideas encourage Black Americans and Black people to explore their creativity and imagination as an avenue for liberation. A lot of my thesis is inspired by the Black Lives Matter movement and the events that occurred this past summer where there were many emotions that were difficult to navigate. My thesis is not just about the movement, getting involved in protests, and creating propaganda; I want my thesis to truly transform individuals and help people free themselves."
After graduate school, Weathers is excited to work professionally and to use her CRS degree. Additionally, she plans to enroll in a doctoral program where she hopes to further study the field of communications or pursue the field of liberal arts.
"After graduation, I have decided to not go immediately into a doctoral program as I do plan to work professionally and to experience what the new normal is like," she says. "Our society is transitioning to a new way that we have not internalized yet, so I am excited to see what the future is like. CRS has allowed me to understand that we are in a new society, we are in a new world where we could build the future that you want to see."
–This story was written by the CRS student news team. Contact them at .