Cara Hardman is a second-year communication and rhetorical studies (CRS) graduate student who is from Elmers, New Jersey. She serves as a teaching assistant for CRS 181: Concepts & Perspectives in Communication Studies, CRS 183: Concepts & Perspectives in Rhetorical Studies, CRS 287: Foundations of Inquiry in Human Communication, and CRS 325: Presentational Speaking.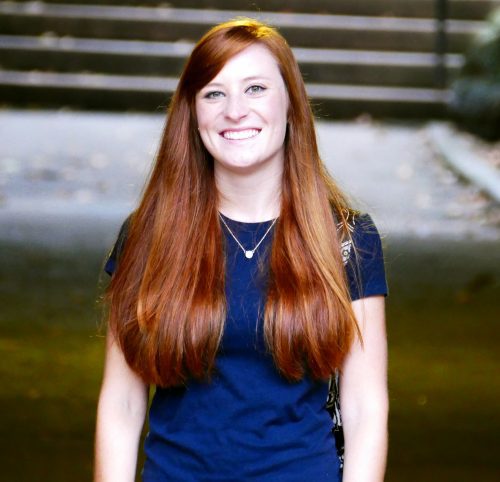 As a teaching assistant, Hardman enjoys interacting with CRS undergraduates, being able to assist them in any way possible, as well as seeing her students grow and engaging with the curriculum.
"So far, CRS 183: Concepts & Perspectives in Rhetorical Studies has been my favorite class to TA for," she says. "What was interesting about this class was that I actually had to learn that material when I was an undergraduate student, so it was interesting to connect the rhetoric and the course's material to my undergrad experience. As a teaching assistant, I love interacting with my students and seeing the diversity of Syracuse University. I also love working with the other teaching assistants and learning the different methods that they are teaching the material."
Hardman's knowledge of communication is not only limited to communication and rhetorical studies, but also media studies. During her time as an undergraduate student, she presented "Part of His World: A Feminist Examination of Hierarchy and Masculinity in 'The Little Mermaid.'" In the presentation, Hardman addressed the topics of feminism and patriarchal control that are brought up in "The Little Mermaid," a famous children's movie. Her findings have allowed her to not only better herself, but also have allowed her to analyze media differently and how it impacts society.
"Originally this began as a paper for one of my classes, but the professor found the findings to be interesting and pushed me to present it at multiple conferences," she explains. "Essentially, in 'The Little Mermaid,' Ariel's family is not only supported by a hierarchy of masculinity, but she also leans on her sidekicks; however, her sidekicks are all male. Ariel unfortunately leans on all of these men instead of making her own decisions and at one point, loses her voice. Many researchers have spoken about this topic, but it seems as if Ariel is constantly moving from one patriarch hierarchy to another and is not embracing female independence."
Hardman's personal interests in Disney and digital media have shaped her thesis to focus on issues of representation–specifically female representation. She plans to analyze the live action "Beauty and the Beast" film, how the film constructs and de-constructs the principles of feminism, as well as Disney's definition of what female representation is.
"I have always been interested in Disney since the company's publications culturally dominate America," she says. "Most people have seen at least one movie as these movies are very powerful in regard to how they shape representation. My thesis primarily focuses on how Disney marketed this film to be a feminist film with their decision to reinterpret the original story as well as their decision to cast Emma Watson, a popular feminist figure. I also plan to speak about how the film is feminist, but also how it is not feminist as the film only supports white feminism and is not intersectional to all."
After graduate school, Hardman is excited to immerse herself in the professional world and to use her CRS degree. In the future, she plans on becoming a professor at a community college and gradually working her way up to a university.
"After graduation, my goal right now is to become a professor," she says. "However, I do plan on taking a break and immersing myself with the job market. CRS has prepared me for whatever route I do decide to take. This program has helped me to navigate uncomfortable situations and how to approach this uncomfortability. You may feel uncomfortable because everyone does not agree with your opinions, but you need to clearly communicate with others to mitigate the situation."
–This story was written by the CRS student news team. Contact them at .