Department of Drama productions are held in the Syracuse Stage/Drama Theater Complex, 820 East Genesee Street, Syracuse.
Purchase season subscriptions ($99) or flexible 4Packs ($60) online or call Syracuse Stage Box Office (315.443.3275). Discounts available for seniors, students, and Syracuse University employees. Drama subscribers will receive vouchers redeemable for tickets to Disney's Beauty and the Beast.
2019-2020 Season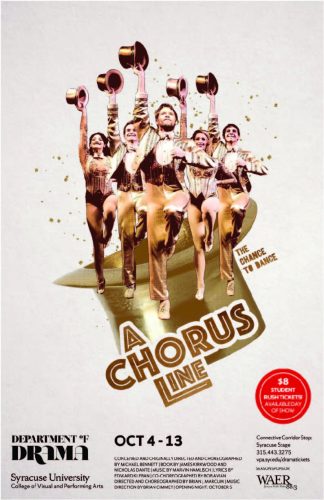 A Chorus Line
Conceived and Originally Directed and Choreographed by Michael Bennett | Book by James Kirkwood and Nicholas Dante | Music by Marvin Hamlisch | Lyrics by Edward Kleban | Co-choreographed by Bob Avian | Directed and Choreographed by Brian J. Marcum | Music Direction by Brian Cimmet
October 4 – 13 | Opening Night: October 5
In 1974, choreographer Michael Bennet invited a group of his friends to a studio in New York to talk about their lives as dancers. For twelve hours, with a reel-to-reel tape recorder running, they shared their personal stories, which became the basis for the now legendary musical A Chorus Line. Winner of nine Tony Awards and the Pulitzer Prize, A Chorus Line is a passionate tribute to Broadway's chorus dancers: those valiant and highly trained performers who back up the star or stars – and often make them look even more talented than they are. Department of Drama director/ choreographer Brian J. Marcum (Crazy for You) helms a production that simultaneously honors the original work while reimagining its pioneering spirit.

The Crucible
By Arthur Miller | Directed by Gerardine Clark
November 8 – 17 | Opening Night: November 9
Having had personal experience with the House Committee on Un-American Activities in the 1950s, Arthur Miller penned The Crucible, a drama born of hysteria and fear. Set in 1692 in Salem, Massachusetts Bay Colony, amid a whirl of reckless accusations of witchcraft, Miller's play cuts right to the heart of paranoia's poisonous power and serves as a potent reminder that irrational and unfounded fear of the "other" knows no boundary or time. One of the great American plays of the last century.

Disney's Beauty and the Beast*
Music by Alan Menken | Lyrics by Howard Ashman and Tim Rice | Book by Linda Woolverton | Directed by Donna Drake | Choreography by Anthony Salatino | Musical Direction by Brian Cimmet | Flying Effects by ZFX Inc. | Co-produced with Syracuse Stage
November 22 – January 5 | Opening Night: November 29
Be our guest for a beloved musical sure to delight the whole family. Spectacular costumes and fantastic sets combine with enchanting songs in this classic story about finding the magic in love. A wicked curse has transformed a young prince into a ghastly Beast. To break the power of this spell and return to his former self, the Beast must learn how to love and be loved. His fate is in the hands of a young woman, Belle, who must guide and teach him before he is lost forever. A tale as old as time to celebrate the holiday season.
*Drama subscribers will receive vouchers redeemable for tickets to Disney's Beauty and the Beast.

Romeo and Juliet
By William Shakespeare | Directed by Thom Miller | Performed in the Archbold Theatre
February 14 – 22 | Opening Night: February 15
A grudge so ancient that its origins are never revealed brings tragedy to two families and untimely death to two young lovers. Four hundred years ago Shakespeare understood how intolerance begets violence and violence victimizes an entire society: See what a scourge is laid upon your hate . . . All are punish'd. He also understood that the deepest human hope lies in the unmatched beauty contained in our capacity to love.

A Grand Night for Singing (Cancelled)
Music by Richard Rodgers | Lyrics by Oscar Hammerstein II | Music Arrangements by Fred Wells | Conceived By Walter Bobbie
March 27 – April 5 | Opening Night: March 28
Many of the most beloved, uplifting, and romantic songs in musical theatre history have one thing in common: the incomparable writing team of Richard Rodgers and Oscar Hammerstein II. A Grand Night For Singing is a musical review that collects over 30 treasured works from Rodgers and Hammerstein hits such as Oklahoma!, South Pacific, The Sound of Music, Carousel, The King and I, and Cinderella; as well as lesser-known shows like Allegro, Flower Drum Song, and Pipe Dream. Audiences are invited to experience these classics anew through artful arrangements and clever interpretations – it's "something wonderful" for any lover of classic musical theater.

On the Lake (Cancelled)
By Reza de Wet | Directed by Stephen Cross
May 1 – 9 | Opening Night: May 2
In the magic-comic On the Lake, playwright Reza de Wet revisits Anton Chekhov's The Seagull, with an eye on exposing the tensions beneath the surface of the Chekhovian world. Zooming in on Constantine's symbolist play-within-the-play, de Wet imagines the experience from Nina's perspective: a dreamlike vision of the future, where the hope of escape is linked directly to the potential for the theater itself to rise up and fly away.