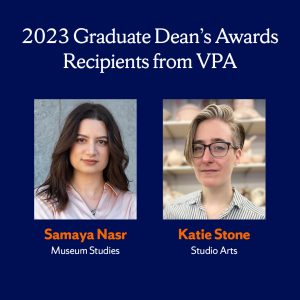 Two College of Visual and Performing Arts (VPA) students were among the eight master's and doctoral program students selected as winners of the 2023 Graduate Dean's Award for Excellence in Research and Creative Work competition. The awards are presented annually by Syracuse University's Graduate School to recognize overall graduate-level academic excellence and outstanding research initiatives and creative activity.
The competition drew 72 submissions representing broad disciplinary categories. Winners were chosen by a panel of faculty members serving on the Graduate Faculty Council.
"I'm extremely impressed by the broad interests and exciting initiatives these eight award winners represent," says Peter Vanable, dean of the Graduate School. "The 2023 honorees are talented scholars who have produced excellent work. They are wonderful representatives of the graduate student community, and we are excited to see where their paths lead and how they apply their scholarship to society's interests and needs."
The VPA honorees and their winning submissions are:
Samaya Nasr, a master's student in museum studies, School of Design, "A Walk Through the 19th Century's American West."
Katie Stone, a master's student in studio arts, School of Art, "Subtractive Building: Modeling Gender and Power"
Syracuse University doctoral and master's students from all disciplines who are in good academic standing are eligible to enter the competition. Applicants are evaluated on the overall strength and impact of their achievements in research or creative work.