Wendy K. Moy
Setnor School of Music
Assistant Professor, Music Education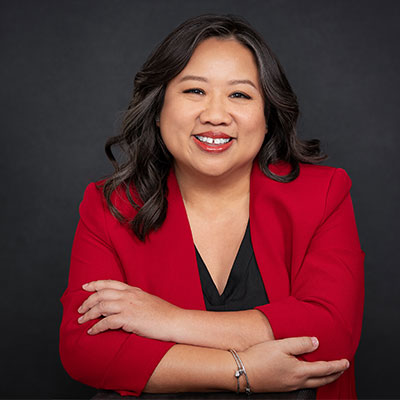 108A Crouse College
Syracuse, NY 13244-1010
Wendy K. Moy is a dual assistant professor of music education in the College of Visual and Performing Arts and the School of Education at Syracuse University.
Moy teaches undergraduate and graduate coursework in music education, conducting, rehearsal techniques, and choral literature, and directs the Crouse Chorale in the Setnor School of Music.
Prior to joining Syracuse University, Moy was an associate professor of music at Connecticut College from 2013-2020, where she was the director of choral activities and head of music education. From 2012-2013, she was an instructor at Tacoma Community College, serving as the director of choral activities and teaching courses in music education. Before moving to the East Coast, Moy conducted the University of Washington Women's Chorus and the Seattle Pacific University Chamber Singers. She also taught orchestra, choir, and jazz choir at the secondary level in the Edmonds School District from 1999-2010. Her ensembles were invited to perform at the Northwest Music Educators and Washington Music Educators Association Conferences.
Moy is the co-founder and co-artistic director of the professional chamber ensemble, Chorosynthesis Singers. They recently released on the Centaur Records label Empowering Silenced Voices, a 2-CD collection of new music on themes of social consciousness and established the Empowering Silenced Voices Database for Socially Conscious Choral Music. Chorosynthesis Singers was selected to be in residence as Choral Scholars at Santa Monica College and as Dayton Artists-in-Residence at Connecticut College. A strong advocate for collaboration and new music, Moy has premiered/commissioned numerous new works. She also sings soprano in Chorosynthesis Singers and 21V. Moy has also served as the director of the Eastern Connecticut Symphony Chorus and the artistic director of the Hartford Gay Men's Chorus. A violinist since age four, she was a violin coach, chamber music coordinator, and assistant conductor with the Cascade Youth Symphony Organization. Moy studied orchestral conducting with Eric Hanson with additional coaching by Kenneth Kiesler. She recently made her conducting debut with the Eastern Connecticut Symphony Orchestra and Chorus.
Moy is a frequent clinician and guest conductor with ensembles of all levels. Passionate about mentoring and inspiring young musicians, she has conducted the Zone 2 Senior High Area All State Treble Choir, Rhode Island All-State Senior High School Chorus, Connecticut Eastern Region High School Honor Choir, Heartland High School Honor Choir, Northshore Junior High Honor Orchestra, and Edmonds Elementary Honor Choir. In June 2017, she served as assistant conductor for a performance of Tyler's Suite at Lincoln Center. Selected as an American Choral Directors Association (ACDA) International Conducting Fellow, Moy made her international conducting debut with the Coral da Universidade Federal da Gazzi de Sá at the Festival Paraibano de Coros in João Pessoa, Brazil. She soon followed this with her Asia conducting debut in Shenzhen, China. In June 2023, Moy will make her London conducting debut.
Moy's research focuses on the culture of singing communities and the cultivation of social capital in successful choral organizations. She has presented her ethnographic research on the Seattle Men's Chorus, the largest gay men's chorus in the world and the largest community chorus in North America, at conferences sponsored by the ACDA; College Music Society; GALA Choruses; National Association for Music Education (NAfME); and Society for Education, Music and Psychology Research. Oxford University Press recently published her study in Together in Music: Coordination,Expression, Participation. Moy has also presented on fostering equity, diversity, and culture in the choral rehearsal and performance through the music of social consciousness at the Chorus America and the National Collegiate Choral Organization Conferences. She writes for the NAfME Music in a Minuet blog and has been interviewed for featured articles in The Choral Journal, The Voice of Chorus America, The Classical Singer Magazine, and Teaching Music Journal on entrepreneurship and culture-building in the choral arts.
Moy's honors include being selected to participate in the National Endowment for the Humanities Bach Institute in Germany, the Westminster Chamber Choir with Joe Miller, the Tallis Scholar Summer School with Peter Phillips, the Carnegie Hall Choral Institute/Transient Glory Symposium as a conducting associate with Francisco Nuñez, and the Yale/Norfolk Chamber Choir under the direction of Simon Carrington. She was named the 3rd place winner of The American Prize in Choral Conducting, professional division in 2017. Under her co-direction, Chorosynthesis Singers was named the 2nd place winner of The American Prize in Choral Performance, professional division, with a special citation for Extraordinary Commitment to New Music in 2018.
Moy is the vice president/co-founder of Chorosynthesis, a national nonprofit organization whose mission is to transform the culture of American choral music through collaboration, sustainability, innovation, and excellence. She serves on the ACDA Standing Committee on International Activities and evaluates grants for the National Endowment for the Arts and Chorus America. Moy holds a bachelor of arts in music education (vocal/choral and instrumental emphasis) from Seattle Pacific University, a master of music education from Westminster Choir College, and a doctor of musical arts in choral conducting (music education cognate) from the University of Washington.