Susannah Sayler
Department of Film and Media Arts
Associate Professor, Art Photography
Co-Director, the Canary Lab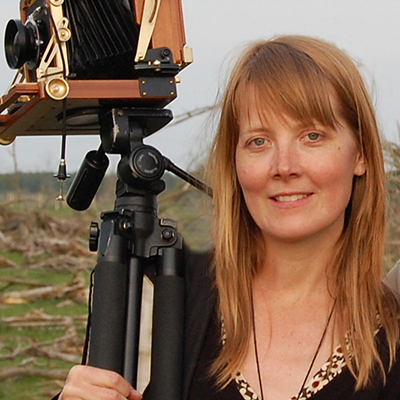 220 Smith Hall
Syracuse, NY 13244-1180
Susannah Sayler is a photographer and the co-founder of the Canary Project. As a photographic artist, she has assembled a collection of landscapes taken around the world where scientists study the impacts of climate change.
The photography is exhibited in diverse venues and frequently combined with other elements, such as archival objects and video. This series, titled A History of the Future, has been exhibited in venues including the Kunsthal in Rotterdam, the Center for Art + Environment at the Nevada Museum of Art, and the Museum of Science and Industry in Chicago.
In 2006, Sayler co-founded the Canary Project, which produces art and media dealing with ecological issues such as climate change, extinction, food systems, and water resources. Canary has produced more than 20 projects involving hundreds artists, designers, scientists, writers, and volunteers. Sayler is also the co-director of the Canary Lab at Syracuse University.
Along with her collaborator, Edward Morris, Sayler was recently awarded the 2016 NYFA Artist Fellowships and the 2016 David Brower Center ART/ACT Award & Exhibition. In 2014, Sayler/Morris were Smithsonian Artist Fellows, and in 2008-09 they were Loeb Fellows at Harvard's Graduate School of Design.
Education
M.F.A., The School of Visual Arts