Sandy Siquier
Department of Film and Media Arts
Assistant Teaching Professor, Film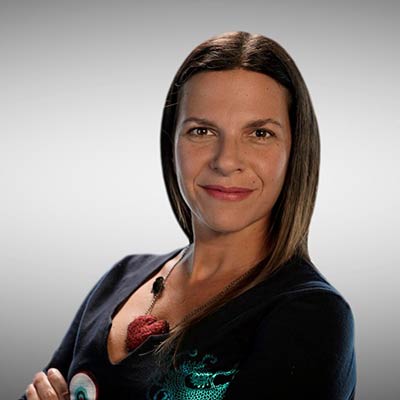 Shaffer Art Building
Syracuse, NY 13244-1210
Sandy Siquier is an actor, creative writer, instructor, and mother who has worked in a broad range of film, television, theater, and radio productions in the United States and Latin America.
As an actor, Siquier has studied various modern acting methods with a strong emphasis on Stella Adler. She has had significant participation in television, being a principal role in more than 30 national and international spots and recurrent character in two major TV shows. She has led numerous film productions recognized at more than 40 major international film festivals such as Clermont-Ferrand, Slamdance, Milano, Durban, Guadalajara, Sapporo, and Miami, among many others. She also had the leading role in the short film Centripetal, recipient of the Audience's Choice Award at the Shanghai International Film Festival.
As a creative writer, her experience spans scriptwriting, advertising, and narrative writing. In her role as creative copywriter for Ogilvy & Mather, she had the opportunity to develop advertising campaigns for major international brands including American Express, Unilever, Post Cereals, and Ponds. In addition, her script doctoring skills have contributed to countless short film productions, all of them widely exhibited.
Siquier graduated from Syracuse University with an M.A. in Hispanic literature, language, and culture. She received a B.A. in mass communication with a specialization in advertising and public relations from Universidad Católica Andrés Bello (Caracas, Venezuela). She was part of the renown theater group Teatro UCAB and member of Fundación Medatia, a theater-based educational organization devoted to the cultural development of underprivileged communities in the Venezuelan Andes.
Currently, Siquier teaches Directing Actors, Film Adaptation, Scriptwriting, and Scriptwriting Workshop at the Syracuse University film program.
Education
M.A., Syracuse University
B.A., Universidad Católica Andrés Bello, Venezuela