Robert E. Thomas
Setnor School of Music
Instructor, Music Composition, Theory, and History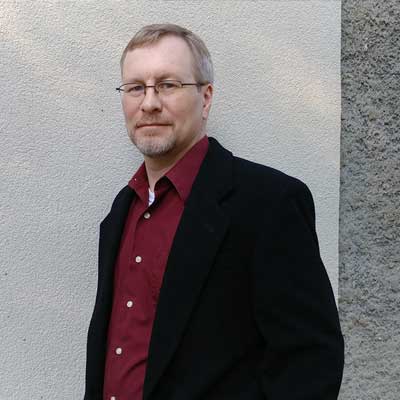 301 Crouse College
Syracuse, NY 13244-1010
Robert E. Thomas is an active teacher, composer, scholar, and performer. His music has been presented around the country and overseas, including performances at Make Music New York, the June in Buffalo and MusicX festivals, the Conductor's Institute at Bard College, and Edinburgh, Scotland.
Currently teaching at the Setnor School of Music, the College of Saint Rose, and Union College, he has also taught at William Paterson University, Westminster Choir College of Rider University, Rutgers University, Seton Hall University, Burlington County College, and Raritan Valley Community College. He founded, directs, and performs with the College of Saint Rose New Music Ensemble.
In addition to his composition and teaching activities, Thomas is writing a book on music notation and is particularly interested in layered musical structures, music technology, the music of Anton Webern, and microtonal music.
Thomas has long entertained a fascination with Russian folk and 20th-century music (in particular the music of Shostakovich and Schnittke), which began with a concert of Russian folk music he attended as a child. He also has an abiding interest in Russian and Ukrainian literature, especially the work of Gogol and Bulgakov. He has visited Ukraine twice, where he was able to experience folk music, art, and dance first hand.
Thomas also does copyist work, was a church music director for 13 years, has taught private piano lessons, and is always on the lookout for a good cup of coffee.
Thomas holds a Ph.D. in music theory and composition from Rutgers University, a Mus.M. in composition from Boston University, and a B.Mus. in composition from Western Washington University. His principal teachers were Charles Wuorinen and Lukas Foss.
Education
Ph.D., Rutgers University
M.Mus., Boston University
B.Mus., Western Washington University