Rebecca Kelly
School of Design
Associate Professor, Communications Design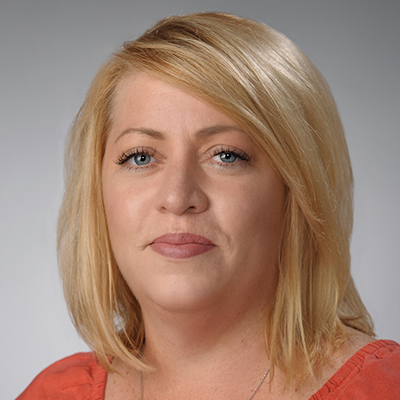 135 The Nancy Cantor Warehouse
350 West Fayette Street
Syracuse, NY 13202
Rebecca Kelly's strengths and interests lie in teaching the importance of conceptual thinking, not only to promote the virtues of invention and creativity, but ultimately the power of smart communication. She lives for idea generation.
Bigger, better, smarter, weirder ideas. Implementing creative methodologies for effectively developing these ideas in the fields of graphic design, advertising, art direction–and communication in general–is what she believes to be her most significant contribution to the classroom. She teaches methodologies for effective visual communication and the complexities of advertising design. She has taught at the University of North Texas, a top 20 design school; Mississippi State University, a contender in the top 100 research institutions and one of the top three hidden design schools; and she has earned a master's degree in communication design. Her students have been featured in leading design publications, won prestigious awards, and accepted positions at prominent Fortune 500 companies. She believes that designers can do more than sell toothpaste.
Kelly's clients range from large international organizations to regional/local clients and specialty industries such as food and beverage, gaming, health care, products and services. Her client list includes Texas Instruments, PepsiCo, Frito-Lay, Coca-Cola, Dr. Pepper, Nabisco, Kimberly-Clark, Hasbro, Campbell's, Tyson, Fanta, and all of the sub-brands under the parent companies (Gatorade, Quaker, etc.), USPS, American Airlines, Con-Agra Foods, Wall Street Journal (and interactive), Southwest Airlines, Jean Naggar Literary Agency, Cyrus One, Oncor Energy, Toys "R" Us, Liberty Mutual, and the Universities of Kentucky, Maryland, Southern California, Alabama, West Virginia, North Texas, Notre Dame, and more.
Kelly primarily works on client work (Fortune 500 clients), is a children's book author/writer, and a partner in small design firm since 1998. Her scholarly activity focuses on the ethics of design; her most recent acceptance was for a conference at Harvard (title: "The Diet of Design").
Education
M.F.A., University of North Texas
B.F.A., University of Texas at Arlington
Expertise
Branding, strategy, conceptual thinking, creative methodologies, graphic design, advertising/art direction, bookmaking, and hand-drawn type