Rachel Hall
Department of Communication and Rhetorical Studies
Associate Professor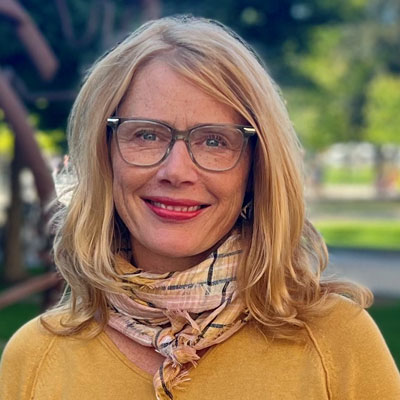 114 Sims Hall
Syracuse, NY 13244-1230
Rachel Hall studies how visual logics shape our ideas about risk, security, mobility, access, and sustainability. Her current book project, "Natural Feelings: Anthropocene Remorse as a Settler Colonial Aesthetic," traces the recurrent white fantasy of adopting Native perspectives as a way of envisioning continuity with the nonhuman, from the nineteenth century to the present.
View a list of Hall's published work.
Education
Ph.D., University of North Carolina at Chapel Hill
Selected Publications
"Architectures of Risk and Resiliency: 'Embedded Security' and the Redesign of Sandy Hook Elementary School."

Routledge Companion: Critical Approaches to Contemporary Architecture

, edited by Swati Chattopadhyay and Jeremy White. New York: Routledge (2019).

"

Expecting the Worst: Active-Shooter Scenario Play in American Schools

."

Futureproof: Security Aesthetics and the Urban Imaginary

. Durham: Duke University Press (2019).

The Transparent Traveler: The Performance and Culture of Airport Security

. Durham: Duke University Press, 2015.

Wanted: The Outlaw in American Visual Culture

. Charlottesville: University of Virginia Press, 2009.
Selected Invited Presentations
"Automating Injustice." Monday Night Seminar at the Marshall McLuhan Center, University of Toronto (October 2017).
"Asymmetrical Transparency: The Global Politics of Risk Management" Securing the Image: Surveillance, Verification and Global Violence (Symposium on Visual Rhetoric), Northwestern University, October 2014.
"Wanted Dead: On the Refusal to Publicly Display Images of

Bin

Laden's Corpse"

Featured Speaker, Annual International Crime, Media and Popular Culture Studies Conference, Indiana State University

,

2013

.