Rachel Aubrey
School of Design
Associate Teaching Professor, Communications Design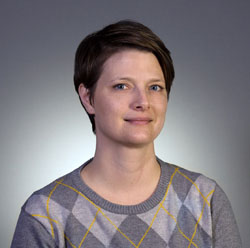 3rd floor, The Nancy Cantor Warehouse
350 West Fayette Street
Syracuse, NY 13202
Rachel Aubrey's 15-year professional design career was based in Manhattan, where she worked in various creative roles for both in-house design departments and specialty firms.
Aubrey's background emphasizes creative strategy and problem solving, relationship building, and effective visual communication. She has produced work for a wide range of clients from start-ups to Fortune 500 companies, including Google, Colgate Palmolive, 21st Century Fox, CBRE, and J.P. Morgan. She received a B.F.A. from the New York Institute of Technology, where she studied graphic design.
Aubrey has extensive experience in high-pressure, deadline-driven environments where working both creatively and efficiently is of the utmost importance. To students, she brings a pragmatic approach to design ideation, processes, and client communication with a strong emphasis on project management and professionalism.
Education
B.F.A., New York Institute of Technology