Phil McAndrew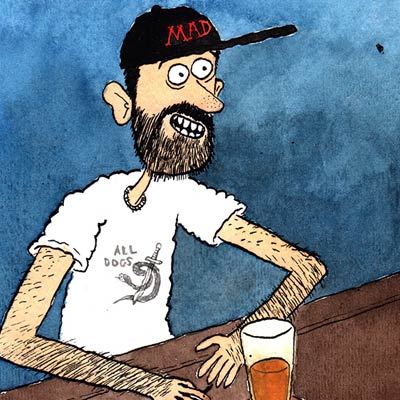 102 Shaffer Art Building
Syracuse, NY 13244-1210
Phil McAndrew is an award-winning illustrator, a cartoonist, and writer.
He illustrated the CAVEBOY DAVE series of graphic novels written by Aaron Reynolds (Viking Books, 2016 and 2018) and MONSTER SCIENCE by Helaine Becker (Kids Can Press, 2016). An art book collecting some of his work was published by Benign Kingdom in 2013. In 2014 he made a 24 page comic book that doubled as packaging for a split 7" record by the critically acclaimed punk bands Perfect Pussy and Joanna Gruesome.

McAndrew has contributed comics and humor to MAD Magazine, The New Yorker, Popula, and The Nib. For a while he had his own television show in development with Cartoon Network and has worked as a freelance character designer and concept artist for animated projects at other television networks. He's given talks and written articles about drawing and creativity and has taught in the illustration department at Syracuse University. 
Education