Natalie Draper
Setnor School of Music
Assistant Professor, Music Composition, Theory, and History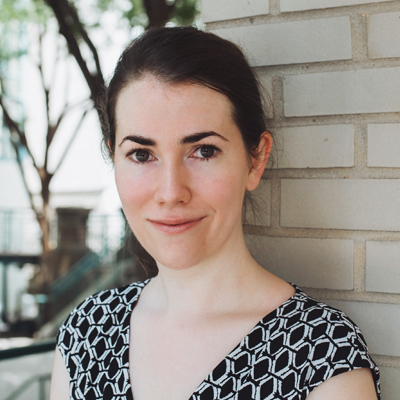 119B Crouse College
Syracuse, NY 13244
Natalie Draper is an assistant professor of theory and composition in the Setnor School of Music. She teaches classes in undergraduate and graduate music theory and gives composition lessons.
Prior to joining Syracuse University, Draper was at Shenandoah Conservatory from 2017-2018, where she taught both instrumentation and composition as an adjunct assistant professor. She also worked at Levine Music, a community music school in the Washington, D.C., metropolitan area, from 2011-2018, teaching group classes in theory and sight-singing, as well as individual lessons in sight-singing, theory, and composition. She taught a variety of theory classes at Johns Hopkins University and the Peabody Institute as an adjunct instructor from 2014-2017.
Draper believes that each piece should be a new beginning, a new opportunity for personal discovery and musical growth. Harmony is the musical parameter that typically draws her in the most; she is fascinated by intervallic patterns and voice-leading. Many of her pieces also incorporate process-based elements, whether the process is incremental variation through layering and orchestration (Timelapse Variations), a goal-oriented use of register or pitch (Decadent Music Box), or the spinning out of rhythmic cells (Deflected Harmlessly into the Ceiling). Recent projects include a recording of a sea-themed song cycle for soprano Danielle Buonaiuto and pianist John Wilson, a chamber work for the Empyrean Ensemble in residence at UC Davis, and a reed quintet for the Akropolis Reed Quintet. You can listen to Draper's work on her website: www.nataliedraper.net.
Draper's compositions have received praise from a variety of publications, including the Baltimore Sun, the Portland Press Herald, and Fanfare Magazine. She has had performances and readings at the Tanglewood Music Center, the Charles E. Gamper Festival of Contemporary Music at Bowdoin, and the Library of Congress in Washington, D.C., with Oliver Knussen and the Birmingham Contemporary Music Group. A recent work, Timelapse Variations, which was written for Symphony Number One, received positive reviews from Lydia Woolever in Baltimore Magazine ("dissonant melodies that build into a unified spiral"), Tim Smith in The Baltimore Sun (a "tense, darkly colorful churn"), and Mark Medwin in Fanfare Magazine ("…polyrhythm bolstering gorgeous pantonal harmonies and shards of chromatic counterpoint," while  "…items burst forth, in a way that might make Mahler smile…").
Draper was a fellow at the Tanglewood Music Center in 2015 and an artist-in-residence at the Ucross Foundation in 2010 and at I-Park in 2018. During her time at the Peabody Institute, Draper's music won first prize in the Prix d'Été competition and she received the Dr. and Mrs. Walter Edwards James Award in Theory.
Draper earned a D.M.A. in composition in 2017 from the Peabody Institute of Johns Hopkins University, an M.M. in composition in 2009 from the University of Cincinnati's College-Conservatory of Music, and a B.A. in music in 2007 (magna cum laude) from Carleton College. She has studied composition with Oscar Bettison, Frances McKay, Joel Hoffman, Michael Fiday, Mary Ellen Childs, and Phillip Rhodes.
Education
D.M.A., Peabody Institute of John Hopkins University
M.M., University of Cincinnati
B.A., Carleton College