Michael Ahearn
Department of Film and Media Arts
Instructor, Computer Art and Animation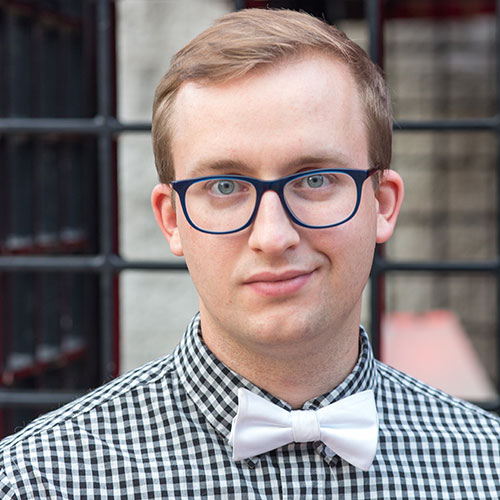 102 Shaffer Art Building
Syracuse, NY 13244-1210
Michael Ahearn Wilcox is a Sound Engineer, specializing in live sound, sound design, audio production, recording, mixing, and mastering.
Michael teaches a 2-week intensive 'Sound Engineering and Audio Production' course for high school students through Syracuse University's Pre-College Programs, and has previously taught a 'Field Recording and Sound Design' course through the same program. He has also taught multiple semesters of the Intro and Advanced courses of 'Audio Production and Recording' at Syracuse University through the Computer Art and Animation program in VPA's Department of Film and Media Arts. He was the Live Sound Engineer of the Turquoise Tiger nightclub at Turning Stone Resort Casino for over three years. He is currently putting his skills to use as the Sound Engineer and Lighting Technician of the Events Department at Mohawk Valley Community College in Utica, NY, where he also teaches a Technical Theater course within the college's Theater program. Michael has worked as a freelance Sound Designer for short films, and has a passion for Sound Design for videogames. He enjoys writing his own music, such as electronic music, soundscapes, and indie pop-rock. Along with coding his own instruments and effects in Max, a node-based audio/visual programming language, he has been known for turning his Xbox 360 controller into a MIDI effects controller for live performances, and plans on doing the same with Switch Joy-Cons.
Education
M.F.A., Syracuse University
B.F.A., Syracuse University
Expertise
Sound Engineering, Sound Design, Live Sound, Electronic Music Production, Audio Mixing, Technical Theater, Software Instruments/Effects Coding.
Courses Taught
CAR 241 Audio Production and Recording I
CAR 341 Audio Production and Recording II

SCN 065 Sound Engineering

Audio Production SCN 058 Field Recording and Sound Design