Marina de Ratmiroff
Department of Drama
Instructor, Musical Theater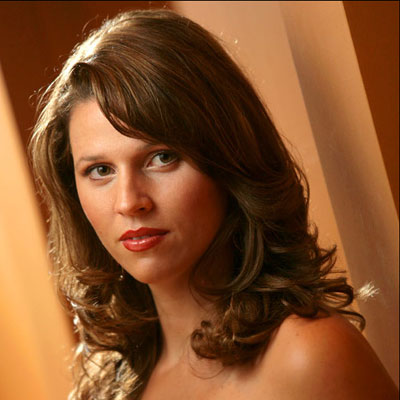 Syracuse Stage/Department of Drama Theater Complex
820 East Genesee Street
Coloratura soprano, Marina De Ratmiroff, has performed internationally to critical acclaim in operatic roles including Zerbinetta (Ariadne auf Naxos), The Queen of the Night (Die Zauberflote), Norina (Don Pasquale), and Olympia (Les Contes d'Hoffman).
Her singing has been described as 'warm, with dazzling flexibility and a playfulness that is captivating' (Star News).
A native of Venezuela, Ms. De Ratmiroff is a dedicated and respected artistic ambassador of Spanish and Latin music. She recently presented a series of recitals and lectures championing Zarzuela and Latin/Spanish Art Song in New York City, Madrid and Granada. Most recently, Ms. De Ratmiroff was invited to perform her Miami Debut, during which her interpretation of rare songs composed by Ernest Lecuona were received with standing ovations and 'display of daring coloratura" ('despliegue de atrevida coloratura,' Nuevo Herald).
Equally comfortable with contemporary music, Ms. De Ratmiroff performed the world premiere of Midnight Hour by Vladimir Horowitz (The Unknown Horowitz: New Insights into the Man and his Music, by Sherrill Martin), and interpreted new music with composer, Daniel Bernard Roumain, in which she 'added an iridescent thread to the texture, especially her gorgeous vocalise in "Black Man Singing"' (Classical Voice of North Carolina).
Ms. De Ratmiroff holds artist diplomas from the Accademia di Santa Cecilia (Rome, Italy) and the Accademia Chigiana (Siena, Italy) where she studied with Renata Scotto, Raina Kabaivanska, and Sylvana Bartoli. She earned a Master of Music degree in Voice Performance from the University of North Carolina Greensboro.
She is the founder of the Cape Fear Opera Company and the former vice president of the Wilmington Concert Association, one of the oldest presenting bodies in the United States. Most recently, Ms. De Ratmiroff served on the voice faculty of Western Carolina University.
Currently, she has a private studio based in Syracuse, New York. She will be singing the world premiere of Jennifer Hidgon's "Civil Words" for soprano on November 6, 2019 at the Setnor School of Music, Syracuse University.
De Ratmiroff's debut album featuring Spanish and Latin-American song with pianist Milton Rubén Laufer will be released on the Naxos record label during 2020.
Education
M.A., University of North Carolina Greensboro
Accademia di Santa Cecilia
Accademia Chigiana