Lydia Nichols
School of Art
Instructor, Illustration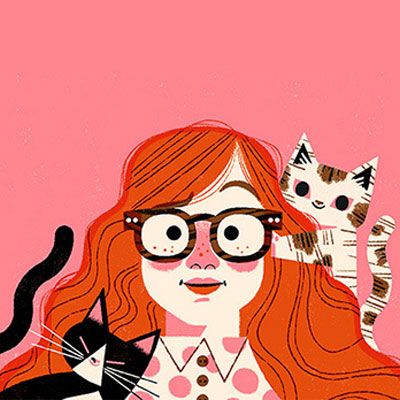 102A Shaffer Art Building
Syracuse, NY 13244-1210
Lydia Nichols is an illustrator, designer, and anthropomorphizer with a penchant for limited palettes and shape driven image-making.
She originally hails from the east coast, but her work has landed her in NYC, Philadelphia, and the San Francisco Bay Area. A love of visual storytelling has resulted in the publication of seventeen children's books and counting from US and UK publishers including Penguin Random House, Abram's Appleseed, Running Press, Page Street, and Templar. When Nichols isn't working on books, she produces editorial work for the likes of The New York Times and The Washington post, game/toy design for companies including Crocodile Creek, Chronicle Books, and Hasbro Playskool, and product illustration for Target and Lagom Design, among others. Since 2015, Nichols has worked as a full-time Doodler for Google, producing global and US Doodles for IWD, US National Parks, Josephine Baker, Halloween, Amanda Crowe, Leonard Bernstein, and dozens more. In recent years she's expanded her role at Google to include art direction. Nichols has received recognition for her work from Communication Arts, 3x3 Magazine, and The Society of Illustrators. She's also been a featured artist at TOPCON, Design Madison, Pictoline, and NYC's Drink and Draw as well as a lecturer/adjunct professor at schools including MICA, UArts, Penn, Kent State, and USF. Beyond commercial work, Nichols participates in gallery shows such as the annual Post-it Show at Giant Robot (Los Angeles, CA) and the Salut! Show at Nucleus Portland (Portland, OR).
Inspired by printmaking processes and mid-century sensibilities, Nichols crafts images with distinct, limited palettes that are infused with whimsy and humor. In her mind, there is no animal or object too large or too small to be imbued with anthropomorphic qualities.
Education
B.F.A., Syracuse University (illustration) 
M.F.A., Tyler School of Art (Temple University), (graphic and interactive design)