London Ladd
School of Art
Instructor, Illustration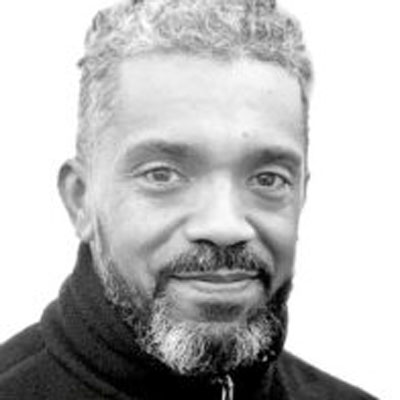 102 Shaffer Art Building
Syracuse, NY 13244-1210
London Ladd's artwork has been featured in numerous critically acclaimed picture books, newspapers, and magazines, along with community-based murals.
Ladd uses a unique mixed-media approach, combining cut paper textured with acrylic paint, tissue paper, colored pencil, pen, and ink to bring his diverse subjects to life. Each image is steeped in intensity and emotion, a reflection of the artist himself.
Ladd's goal is to open a visual arts community center for lower-income families so they can make their own art in a fun, creative environment.
Clients: Knopf, Harper Collins, Simon & Schuster, Philomel Books, Rise Books, Just Us Books, Disney/Hyperion, Scientific American, New York Times, Charlesbridge Publishing, Lee & Low Books, Scholastic Press, National Labor Federation, Syracuse International Film Festival, Marshall Cavendish/Two Lions, Houghton Mifflin Harcourt, McGraw-Hill, Element LLC, Six Red Marbles
Recognition: American Illustration 41, Society of Illustrators-LA Illustration West 60, American Illustration 40, Communication Arts Annual 62, Carter G. Woodson Book Honor, Parent's Choice Silver Medal, Society of Illustrators Original Art Show, Bank St. Best Children's Books, ALA Notable Children's Book, NYPL Children's Book Recommendation, ALA Carnegie Medal of Excellence
Education
B.F.A., M.F.A., Syracuse University