Laurel Morton
School of Design
Instructor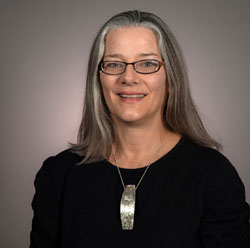 7th floor, The Nancy Cantor Warehouse
350 West Fayette Street
Syracuse, NY 13202
Laurel Morton designed and produced a boutique collection of silkscreened swim and sportswear, Vilano Beachwear, which she marketed predominately at IFB shows held at the Jacob Javitz Center in New York City from 1986–1993.
She still works seasonally with stretch products but currently focuses on bridal design and restyling work and also has a specific interest in sustainable fashion topics and the textile recycling industry. She has instructed at Syracuse University since 1997 in the fashion program and currently teaches technical design courses in flat and computer pattern making.
Past exhibitions include Design Faculty Show at the Genet Gallery, Fall 2011; Delavan Art Gallery's Fashion Fashion exhibition and accompanying Fashion Walk, September 2006; Endicott College Alumnae Art Exhibition, Spring 2005; VPA Faculty Show at Lowe Art Gallery, Fall 2005. She attended the conferences Summer Institute for Online Teaching and Learning, May 2012, and Whitman's Entrepreneurial Classroom, May 2009.
Education
B.F.A., Syracuse University
A.A., Endicott College
Courses Taught
FAS 120 and 121 Concepts and Construction I and II
FAS 222 Flat Pattern for Fashion
FAS 223 Advanced Flat Pattern with Optitex Fashion Software
FAS 341 Computer Aided Pattern Design with AccuMark Gerber system
DES 300 Youth and Fashion: Recycle… Restyle…