Kelly Gallagher
Department of Film and Media Arts
Associate Professor, Film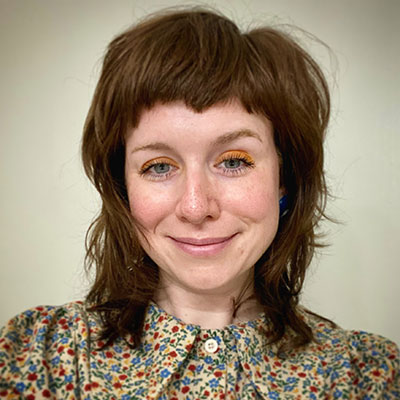 221C Shaffer Art Building
Syracuse, NY 13244-1210
As associate professor of film, Kelly Gallagher has developed and taught various courses in film production, including The Essay Film, Survey of Film History II, and Animating Non-Fiction.
Prior to joining Syracuse University, Gallagher was an assistant professor of media arts at Antioch College in Yellow Springs, Ohio, from 2015-2018. During her tenure at Antioch College, Gallagher built the first-ever animation curriculum and co-ran the media arts program, teaching courses in documentary, the essay film, animation, experimental cinema, and narrative filmmaking.
Gallagher's experimental films, documentaries, and animations explore histories and movements of resistance. Additionally, she makes urgent and radical personal essay films utilizing found footage and experimental animation practices. Her theoretical and scholarly work investigates the political and feminist possibilities of experimental animation. 
Her award-winning films and commissioned animations have screened internationally at venues including: the Museum of Modern Art, the National Gallery of Art, Sundance Film Festival, the Smithsonian Institution, Anthology Film Archives, and International Film Festival Rotterdam. Her most recent animations have also screened on Netflix and PBS. She's presented solo programs of her work at institutions including: SFMOMA, Close-Up Cinema London, SF Cinematheque, and Wexner Center for the Arts. Kelly enthusiastically organizes and facilitates fun and inclusive film workshops, camps, and masterclasses for communities and groups of all ages, from Kentucky to California, from New York to Iowa and beyond.
Gallagher earned an M.F.A. in cinematic arts from the University of Iowa in 2015. She received a B.A. in film and video production from Pennsylvania State University in 2009.

Education
M.F.A., University of Iowa
B.A., Pennsylvania State University