Katherine McGerr
Department of Drama
Assistant Professor, Acting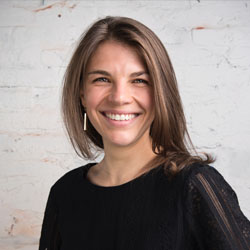 Syracuse Stage/Department of Drama Theater Complex
820 East Genesee Street
Syracuse, NY 13210-1508
Katherine McGerr is a director, dramaturg, and teaching artist.
Recent directing credits include The Wild Party, The Baltimore Waltz, and Laura and the Sea (Syracuse University), The Second Shepherds' Play (Colgate and Syracuse Universities, upcoming at Indiana University); A Dream Play (Allegheny College); Hedda Gabler, Dutchman, Bird Fire Fly, The Two Gentlemen of Verona (Yale School of Drama); Beer (workshop, Fault Line Theatre); Seagulls (Long Wharf NextStage); Building the Wall, An Incident (workshops, Chautauqua Theater Company). Dramaturgy credits include the East Coast premiere of Donald Margulies' Shipwrecked!... (production dramaturg, Long Wharf) and the world premiere of Anna Deavere Smith's Let Me Down Easy (script assistant, Long Wharf).
Since 2007, McGerr has been on the artistic staff of Chautauqua Theater Company, where she is currently the lead teaching artist and director of their annual Young Playwrights Festival. At Chautauqua she previously served as artistic associate and new play development manager. She also served as artistic assistant at Yale Repertory Theatre and artistic coordinator at the Playwrights Realm and held artistic department at Long Wharf and Shakespeare Theatre Company.
McGerr regularly incorporates new plays into her teaching practice. Her other areas of research lie in the reimagination of traditional acting curricula through a more inclusive lens. Her essay "It Starts in the Classroom: Approaching Gender Parity through Actor Training" appeared in Howlround in 2017; her casebook "Sheepish Confessions: Notes from Directing an Irreverent Second Shepherds' Play" will appear in the Medieval and Renaissance Drama in England in 2019.  
McGerr is the recipient of a 2018-2019 Unsurpassed Student Experience Diversity and Inclusion Grant from Syracuse University for her "Stories Untold" initiative to bring to campus notable theater artists whose work addresses issues of representation or identity. She also received a 2017-2018 VPA Research and Creative Grant for her creation of a new production of the Wakefield Second Shepherds' Playin collaboration with Medieval Literature Scholar Rosemarie McGerr.
Education
M.F.A., Yale School of Drama
B.A., Columbia University
Expertise
Acting, directing, and text analysis