Katherine McGerr
Department of Drama
Associate Professor, Acting
Program Coordinator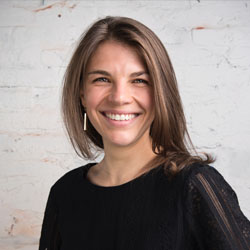 Syracuse Stage/Department of Drama Theater Complex
820 East Genesee Street
Syracuse, NY 13210-1508
Katherine McGerr is a director, dramaturg and teaching artist who joined the Syracuse University Drama faculty in 2015.
Specializing in the intersection of pedagogy with production work, she regularly directs for professional theaters attached to training companies and for other colleges and universities.  As a teaching artist, she also leads playwriting and production work with students in elementary and middle school.
Recent directing credits include Suzette who Set to Sea (Syracuse Stage Bank of America Children's Tour); The Wild Party and The Baltimore Waltz (Syracuse University), The Second Shepherds' Play (Colgate, Syracuse and Indiana University); Measure for Measure (UNC/Playmakers Repertory Theatre); A Dream Play (Allegheny College); Hedda Gabler (Yale School of Drama); Dutchman (Yale Cabaret); Building the Wall (Chautauqua Theater Company New Play Workshop). Dramaturgy credits include the East Coast premiere of Donald Margulies' Shipwrecked!... (production dramaturg, Long Wharf) and the world premiere of Anna Deavere Smith's Let Me Down Easy (script assistant, Long Wharf); associate-directing credits include the Broadway premiere of Birthday Candles (Roundabout Theatre Company) in 2021.
Since 2007, McGerr has been on the artistic staff of Chautauqua Theater Company, where she is currently the lead teaching artist and director of their annual Young Playwrights Festival and previously served as Artistic Associate and New Play Development Manager.  She has also held artistic staff positions and fellowships at Yale Repertory Theatre, Playwrights Realm, Shakespeare Theatre Company and Long Wharf Theatre and served as a teaching artist for Yale School of Drama's Dwight Edgewood Project and Syracuse Stage's Summer Youth Theatre Experience.
McGerr regularly incorporates new plays into her teaching practice. Her other research lies in the reimagination of acting and directing curricula through more contemporary lenses. Her essay "It Starts in the Classroom: Approaching Gender Parity through Actor Training" appeared in Howlround in 2017; her casebook "Sheepish Confessions: Notes from Directing an Irreverent Second Shepherds' Play" appeared in Medieval and Renaissance Drama in England in 2019.  She also recently taught a masterclass in script analysis for designers at CENTRO University in Mexico City.