Kara Herold
Department of Film and Media Arts
Associate Professor, Film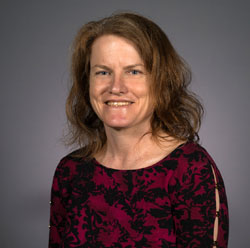 363 Shaffer Art Building
Syracuse, NY 13244-1210
Kara Herold is a filmmaker whose carefully crafted works examine the intersection of feminism and pop culture with wit and visual flair. She has written, directed, and produced everything from short animations to award winning documentaries and has collaborated extensively with other artists and writers, including Beth Lisick, Monica Nolan, and Andi Zeisler.
Herold just finished producing and directing Bachelorette, 34, which takes a humorous look at society's obsession with marriage through the lens of a mother-daughter relationship. The film premiered at the International Documentary Film Festival in Amsterdam and played at the Documentary Fortnight at the MoMA in New York City. Taking the visual style from her previous film Grrlyshow, Bachelorette, 34 combines feminist dialogue with punk ideology and collage-like composition. The film is supported by grants from the Film Arts Foundation, the Pacific Pioneer Grant, and the San Francisco Arts Commission.
Herold's previous production, Grrlyshow, premiered at Sundance in 2001. The film told the story of the girl zine explosion, in which women from all walks of life began creating zines to provide themselves and others with an alternative to the homogeneity of mainstream media. Zine makers profiled included the creators of Bust, Bitch, Plotz, Bamboo Girl, Java Turtle and Pagan's Head. Thriftscore creator Al Hoff called the film "A perky peek at the alternative media community where self-publishing gals are doin' it for themselves." The film screened around the country and is currently being distributed by Women Make Movies.
Herold's other productions include Tit Chat and Women for Sale. Tit Chat, a collaboration with cartoonist Ariel Bordeaux, is a three-minute animation about accepting one's body, whatever its size. It was a finalist at the Queer Short Movie Awards. Women for Sale takes Beth Lisick's spoken-word account of a teenage models' career and sets it to a dazzling montage of exploitation footage from days gone by. The film recently won first place at the 23rd annual Cine-Poetry Film Festival sponsored by the National Poetry Association.
Education
M.F.A., San Francisco State University