John Coggiola
Setnor School of Music
Associate Professor and Chair, Music Education
Program Coordinator
Director, Jazz Studies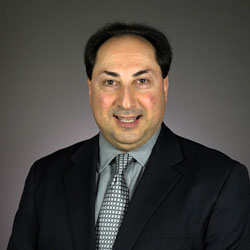 108C Crouse College | 202C Shaffer Art Building
Syracuse, NY 13244-1010
John C. Coggiola is a dual associate professor of music education in the College of Visual and Performing Arts and the School of Education and is the director of jazz studies in the Setnor School of Music. Prior to this appointment, he served as the chair of the music education department in Setnor from 1999 to 2013.
Before his arrival at Syracuse in 1997, Coggiola was an assistant professor of music education at Radford University in Virginia and an instructor of music education, jazz studies, and contemporary media at The Florida State University College of Music. Coggiola has taught a wide array of classes, including psychological and sociological aspects of music, music cognition, cognition in the visual and performing arts, introduction to research in music, current problems and issues in music education, behavioral techniques in music, technology in music education, the inclusive recording studio, instrumental music methods and pedagogy, historical recordings in authentic curriculum design, music in the elementary school, assessment in music education, jazz improvisation, jazz pedagogy, and the history of jazz. While at Syracuse, he has served as a conductor for Syracuse University's Morton Schiff Jazz Ensemble and the Allegro and Poco Allegro Youth Wind Ensembles. He maintains an active schedule as an adjudicator and guest conductor for both concert bands and jazz ensembles at regional music festivals throughout the northeastern United States.
As a jazz conductor and performer, Coggiola has shared the stage with such jazz greats as Rob McConnell, Don Menza, Nick Brignola, Gunther Schuller, Joe Lovano, Howie Shear, Billy Taylor, Freddie Hubbard, Wycliffe Gordon, Bobby Shew, Steve Allee, Dave Friesen, Joyce DiCamillo, Dave Gibson, Ian McDougall, Joe Riposo, Chris Vadala, Alex Dean, Bernard Strüber, and Paquito D'Rivera.
Coggiola served for 11 years as the research chairperson for the New York State School Music Association and was the co-chair of the Music Educators National Conference Special Research Interest Group in affective response to music. Coggiola's research focuses on aesthetic response to jazz music and is published in The Journal of Research in Music Education, The Bulletin of The Council for Research in Music Education, Contributions to Music Education, The International Association of Jazz Educators Jazz Research Proceedings Yearbook, and The Instrumentalist. Coggiola holds a bachelor of arts in applied trumpet from the State University of New York at Fredonia, a master of music education, a master of music in jazz performance, and a doctor of philosophy in music education from The Florida State University.
Education
Ph.D., M.M., The Florida State University
B.A., State University of New York at Fredonia
Expertise
Instrumental and general music education, instrumental jazz performance, and technology in music education