Jim Elenteny
Setnor School of Music
Assistant Teaching Professor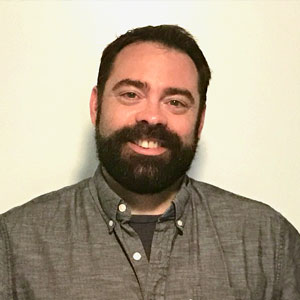 301 Crouse College
Syracuse, NY 13244-1010
Jim Elenteny (he/him) joins the Music Industry and Technologies department in the Setnor School of Music as an Assistant Teaching Professor of Sound Recording Technology. At Syracuse University, Elenteny will teach classes in Sound Recording and Music Industry.
Prior to joining Syracuse University, Elenteny was the Recording Engineer at Western Carolina University from 2018 -2021, serving as Program Director for Commercial Music and Audio Production from 2019 - 2021. In addition to his responsibilities as the recording engineer, serving the School of Fine and Performing Arts at WCU, he taught courses in Audio Fundamentals, Recording Techniques, Advanced Mixing, and Audio Post Production for Film and TV. Elenteny taught the Introduction to Audio, Multitrack Music Production and Digital Audio/Pro Tools sequence of courses, private guitar lessons and directed the Guitar Ensemble at Shoreline Community College in Shoreline, WA from 2010-2018 where he served as the Music Technology Department Chairperson from 2016-2018 and was awarded tenure in 2015. Jim has also taught recording and music production courses at Living Arts College in Raleigh, NC, CUNY Bronx Community College in the Bronx, NY and Five Towns College in Dix Hills, NY.
Elenteny's research focuses on all phases of music production, including composition, performance, recording and production. As a composer and performer, he has produced music ranging from solo guitar to funk/fusion trio to Americana and rock. He has toured nationally, performing with the acoustic duo Science! and funk/fusion trio The Insinuators. As a recording engineer, he has worked in many genres, ranging from solo and chamber classical music to jazz combo and big band, rock, hip hop, folk, metal, and more. Jim has also recorded and mixed sound for film, radio and other media and worked as a live sound engineer.
Elenteny earned a MM in Jazz Composition and Arranging from Five Towns College in 2006, winning the award for Outstanding Achievement in Graduate Studies. He received a BM (Magna Cum Laude) in Jazz/Commercial Music - Audio Engineering Concentration in 2004 from Five Towns College, winning the award for Outstanding Achievement in Audio Recording Technology. Jim also earned a BA (Magna Cum Laude) in Anthropology from SUNY Stonybrook in 2000.
Education
M.M. Five Towns College
B.M. Five Towns College
B.A. SUNY Stonybrook