Jill Coggiola
Setnor School of Music
Instructor, Applied Music and Performance (Clarinet), Music Education
Assistant Director for Academic Affairs
Director of Graduate Studies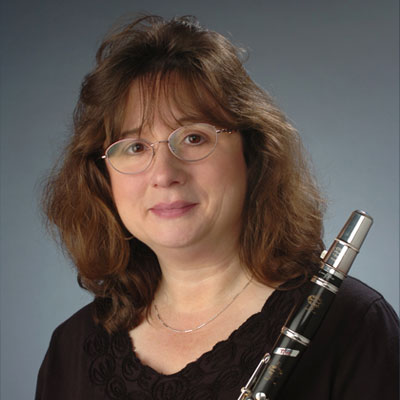 108B Crouse College
Syracuse, NY 13244-1010
A member of the Setnor School of Music faculty since 1997, clarinetist Jill Coggiola is also the school's assistant director for academic affairs and director of graduate studies. She maintains an active clarinet studio and teaches courses in wind instrument instruction for the music education program.
Coggiola has held both clarinet and bass clarinet positions with the Naples/Marco Philharmonic, Tallahassee Symphony, Erie Philharmonic, and Opera Roanoke. Additionally, she has performed with numerous summer festivals, chamber ensembles, and orchestras, including the Syracuse Symphony, Skaneateles Festival, Buffalo Philharmonic, Roanoke Symphony, Fredonia Chamber Players, and the Chautauqua Music School Festival Orchestra. She has appeared as both concerto soloist and recitalist throughout the eastern United States, including performances at national and regional conventions of the College Music Society, the Society of Composers, and on WBFO Buffalo and WCNY Syracuse radio.
Coggiola is a featured performer in Stravinsky's "L'Histoire du Soldat" on the Summit Record Label recording An American Soldier's Tale, as well as on the Mark Record recordings Syracuse University Wind Ensemble and Friends and Soldier Stories. She is an inductee of the national music honor society Pi Kappa Lambda, the international honor society in education Kappa Delta Pi, and is an honorary member of the Sigma Alpha Iota international music fraternity for women. Prior to her position at Syracuse University, she was an assistant professor on the faculty of Radford University in Virginia, where she was director of the music business program and studio instructor for clarinet, saxophone, and flute. She has also held various teaching positions at the public school level in New York, Georgia, and Florida.
A native of Buffalo, New York, Coggiola holds both master and doctor of music degrees in clarinet performance from the Florida State University. She earned a B.M. in performance and music education and a performer's certificate from the State University of New York College at Fredonia, where she was winner of both the School of Music Concerto Competition and Robert W. Marvel Award for Excellence in Performance. Her principal teachers have included Frank Kowalsky, James East, Roger Hiller, and James Pyne.
As a freelance clarinetist, Coggiola was a frequent performer with the Syracuse Symphony Orchestra and Syracuse Opera, as well as with other central New York ensembles, including the Rochester Philharmonic and SUNY Oswego's Upstate X-Tet. She has directed the Syracuse University Clarinet Choir and has appeared as conductor with the Poco Allegro Youth Wind Ensemble. She is active as a competition and solo festival adjudicator and private studio instructor.
Education
D.M., M.M., The Florida State University
B.M., SUNY Fredonia
Expertise
Clarinet, music education, and woodwind instruction