Jennifer DeLucia
Department of Creative Arts Therapy,
Dean's Leadership Team
Assistant Professor
Department Chair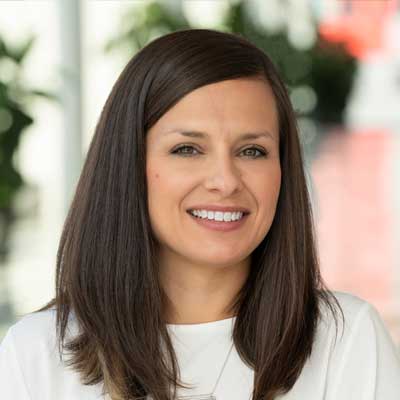 102D Shaffer
Syracuse, NY 13244
Jennifer DeLucia, DAT, ATR-BC, LCAT, worked with faculty and staff across campus to develop a new graduate hybrid program in art therapy within a new Department of Creative Arts Therapy at Syracuse University (target date: Fall 2021). At the University's Institute for Veterans and Military Families (IVMF), she serves as curator of the National Veterans Resource Center's gallery and research associate.
DeLucia previously led the AmericaServes Community of Practice for IVMF, a national collective impact initiative. Working across the country with federal, state, and community-based organizations, she developed the America Serves Community of Practice to empower the operation and continuous performance improvement of more than a dozen high-performing, coordinated networks of services, resources, and care nationally that were dedicated to improving the lives of veterans, service members, and their families. Supporting more than 500 human services providers, together caring for thousands of military-connected members and their families, DeLucia's AmericaServes partners provided leading-edge innovation and best practice across all facets of human services and care for America's veterans and their families.
Prior to her work at the University, DeLucia served as the director of wellness and supportive services at the Veterans Outreach Center in Rochester, New York. There she developed the wellness program to incorporate comprehensive art therapy, mental health counseling, and case management services.
DeLucia earned a doctorate in art therapy from Mount Mary University and was the co-founder and former president of the Western New York Art Therapy Association. She has also volunteered in support of several initiatives targeting improved service delivery and expansion of wellness services for veterans and their family members.
In 2012, DeLucia was a local trainer at Fort Drum for Resiliency through Art: Training by the American Art Therapy Association for the United States Army Arts and Crafts Managers, an initiative designed to promote resiliency for soldiers, veterans, and family members through art making. In 2013, DeLucia represented Veterans Outreach Center at the White House and presented on the organization's case management model and art therapy program as part of the Veterans and Military Health Conference.
DeLucia teaches graduate-level art therapy courses at Nazareth College in Rochester and volunteers at the Rochester Vet Center.
Education
D.A.T. (Art Therapy), Mount Mary University
M.S. (Art Therapy), Nazareth College
B.F.A. (Painting), SUNY Brockport