Jennifer DeLucia
Department of Creative Arts Therapy,
Dean's Leadership Team
Assistant Professor
Department Chair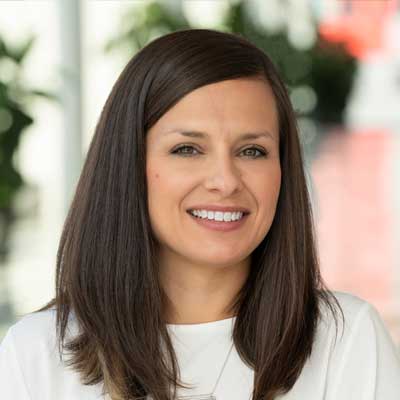 102D Shaffer
Syracuse, NY 13244
Jennifer DeLucia, DAT, ATR-BC, LCAT, worked with faculty and staff across campus to develop a new graduate hybrid program in art therapy and Department of Creative Arts Therapy at Syracuse University. The program launched in Fall 2021, with DeLucia as program director and department chair. In addition, she serves as curator of the National Veterans Resource Center's gallery and research associate at the University's Institute for Veterans and Military Families (IVMF).
DeLucia pursues her commitment to advance the discipline of art therapy through various leadership roles within the field. As of January 2022, she sits on the board of directors of the American Art Therapy Association and is an associate editor for the International Journal of Art Therapy. 
DeLucia previously led the AmericaServes Community of Practice for IVMF, a national collective impact initiative. Supporting more than 500 human services providers, together caring for thousands of military-connected members and their families, the Community of Practice supported federal, state, and community-based organizations to provide innovative and best practices across all facets of human services and care for America's veterans and their families. 
Prior to her work at the University, DeLucia served as the director of wellness and supportive services at the Veterans Outreach Center in Rochester, New York. There she developed the wellness program to incorporate comprehensive art therapy, mental health counseling, and case management services.
DeLucia has volunteered in support of several initiatives targeting improved service delivery and expansion of wellness services for veterans and their family members. In 2012, DeLucia was a local trainer at Fort Drum for Resiliency through Art: Training by the American Art Therapy Association for the United States Army Arts and Crafts Managers, an initiative designed to promote resiliency for soldiers, veterans, and family members through art making. In 2013, DeLucia represented Veterans Outreach Center at the White House and presented on the organization's case management model and art therapy program as part of the Veterans and Military Health Conference. DeLucia currently volunteers at the Rochester Vet Center.
DeLucia is a recipient of the Syracuse University College of Visual and Performing Arts Faculty Excellence Award for Research and the American Art Therapy Association's Rawley Silver Research Award. She is the lead author of research articles appearing in International Journal of Art Therapy and Art Therapy: Journal of the American Art Therapy Association. Her refereed conference papers have been accepted in national and international venues such as the American Art Therapy Association annual conferences and the International Art Therapy Practice/Research Conference at Queen Mary University in London. 
DeLucia's research has been funded by the National Endowment of the Arts, Department of Veterans Affairs, and Substance Abuse and Mental Health Services Administration, among others. Currently, DeLucia is the Principal Investigator on two research projects. "Challenging Underlying Assumptions about Military Life and Veteran Experiences: Examining Civilian Artists' Responses to Artwork by Veterans" explores the experiences of civilian artists who participated in viewing veteran artwork and engaged in responsive art making. The second study, "Military and Veteran Family and Caregiver Virtual Art Therapy and Community Arts Engagement Pilot Program," gauges the effectiveness of a program of open studio art therapy sessions to promote well-being in family members and caregivers of military personnel. 
In her role as curator of the National Veteran's Resource Center gallery, DeLucia continues her efforts to explore issues relevant to military-connected populations with exhibitions such as "Scene|Unsceen: Artistic Exchange as a Ritual of Return Post 9/11" and "Created by Veterans: Works from Syracuse University Collections and The Odyssey Project."
Education
D.A.T. (Art Therapy), Mount Mary University
M.S. (Art Therapy), Nazareth College
B.F.A. (Painting), SUNY Brockport