James Haywood Rolling Jr.
School of Art
Professor, Arts Education
Program Coordinator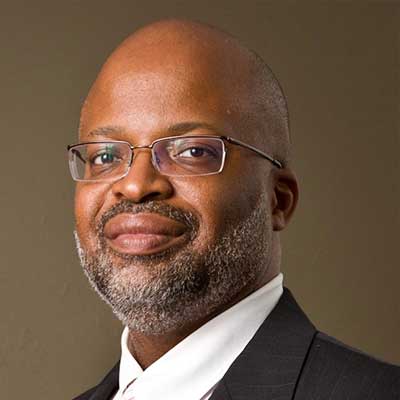 054 Comstock Art Facility
Syracuse, NY 13244-5050
Starting in March 2021, James Rolling will be stepping into a new role as the 37th President of the National Art Education Association (NAEA), founded in 1947 as the leading professional membership organization for art + design educators in our mission to teach creativity at all levels of society.
Rolling is having a good time these days working as the main script consultant for a new children's television show being piloted by the Jim Henson Company for PBS, aimed at introducing kids to their own creative superpowers by learning through the arts. But what thrills him the most is that he is about to publish an inspirational coming-of-age memoir that traces his upbringing as a painfully shy child raised in a struggling inner-city New York neighborhood—a candid self-portrait of a Black boy often reprimanded for daydreaming too much who grew up to become an artist, an art teacher, and a scholar.
Education
Ed.D., Teachers College, Columbia University, NY
2003 Ed.M., Teachers College, Columbia University, NY
2001 M.F.A., Syracuse University, NY
1991 B.F.A., The Cooper Union for the Advancement of Science and Art, NY
1988, Diploma with Honors High School of Art and Design
1980, New York State Art Teacher Certification (Permanent)
Expertise
Art + design education; creative leadership; arts-based + narrative research methods; social justice + urban education; visual culture + identity politics; and community-engaged scholarship
Courses taught
Creative Processes and Curriculum Structures
Creative Leadership & Social Responsibility (online course)
Arts in Context
Art, Activism, (Post)Modernity
Contextual Studies (new first-year School of art rotations)
Narrative Inquiry in Research & Creative Practice
Creative Leadership & Social Responsibility (online course)
Making Methodology: Exploring Arts-based Research
Drawing I - Observation
Foundations of Art Education
Philosophy of Art Education
Art & Design Based Curriculum-Making Principles for Urban and Inclusive Education (online course)
Creativity in Practice
Curriculum, Pedagogy, and Social Responsibility in Art Education
Developing Visual Literacy in a Visual Culture
Art Educators as Contemporary Artists
Seminar in Art Education
Making Methodology: Exploring Arts-based Research in Art Education
Narrative Inquiry in Qualitative Research
Teaching and Writing the Graphic Novel (co-taught w/Marcelle Haddix)
Teaching & Leadership for Social Justice
Other professional links