James Haywood Rolling Jr.
School of Art
Professor, Arts Education
Program Coordinator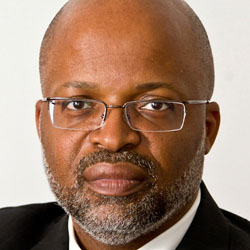 054 Comstock Art Facility
Syracuse, NY 13244-5050
A dual professor of arts education and teaching and leadership, James Haywood Rolling Jr. serves as coordinator of Syracuse University's arts education programs, which are based in the College of Visual and Performing Arts and School of Education.
In his earlier education, Rolling earned an M.F.A. in studio arts research at Syracuse University while studying as a graduate fellow in the Department of African American Studies. Rolling completed his doctoral studies in art education at Teachers College, Columbia University, in 2003 under the mentorship of Graeme Sullivan and Judith Burton. While preparing teachers for K-12 New York State art teacher certification, Rolling is also actively instigating the reconceptualization of the art education discipline as a natural nexus of interdisciplinary scholarship where visual art, design, and other creative practices intersect as an avenue of social responsibility.
As a researcher, Rolling is devoted to telling the story of how human beings creatively constitute, shape, and reinterpret personal and collective identity. Rolling was an associate editor of the award-winning SAGE Publications Encyclopedia of Identity and is currently a member of the International Congress of Qualitative Inquiry. His scholarly interests include arts-based educational research, creative leadership, visual culture and identity politics, curriculum and pedagogy, social justice and community-engaged scholarship, and narrative inquiry in qualitative research.
Rolling has written grant project proposals garnering more than $2 million of external funding since 2014. He is the founder of the 4A Arts & Creative Literacies Academy, a college-community partnership between Syracuse University Art Education and Dr. Edwin E. Weeks Elementary School. 4A Academy features a cross-disciplinary STEAM education instructional format exploring the arts and sciences and serving more than 800 students in grades K-5 daily.
Rolling is the author of the new book Swarm Intelligence: What Nature Teaches Us About Shaping Creative Leadership, a surprising look at the social origins of creativity, published by Palgrave Macmillan in 2013. Drawing upon cutting-edge research in the realms of biological swarm theory, systems theory, and complexity theory, Rolling shows why adaptive social networking and the natural principles of self-organizing, collaborative competition make us both smarter and more creative than a conventional emphasis on the promotion and high-stakes testing of individual achievement.
In 2013, Rolling also published the Arts-based Research Primer, a new introductory textbook released by Peter Lang Publishing that explores the flexible architecture of critical and creative practice-based theory-building methodologies in their potential to intersect with and augment traditional social science and educational research methods. Rolling is also the author of Cinderella Story: A Scholarly Sketchbook About Race, Identity, Barack Obama, the Human Spirit, and Other Stuff That Matters (AltaMira Press) and Come Look With Me: Discovering African American Art for Children (Charlesbridge), in addition to more than 25 peer-reviewed articles and papers, nine book chapters, and four encyclopedia entries on the subjects of the arts, education, creativity, and human identity.
As a visual artist, Rolling focuses on mixed-media explorations and portraiture of the human condition, viewing studio arts practices as an essential form of social research. Rolling is a member of the board of directors of the National Art Education Association (NAEA), currently serving as the organization's president-elect. He is the 2014 recipient of the National Higher Education Art Educator Award for outstanding service and achievement of national significance and just completed a three-year term (2015-2017) as senior editor of Art Education, the bimonthly journal of NAEA.
Education
Ed.D., Ed.M., Columbia University, Teachers College
M.F.A., Syracuse University
B.F.A., The Cooper Union for the Advancement of Science and Art