James Haywood Rolling Jr.
School of Art
Professor, Arts Education
Program Coordinator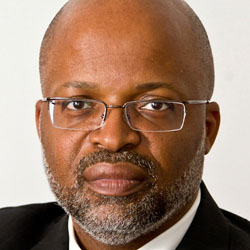 054 Comstock Art Facility
Syracuse, NY 13244-5050
A dual professor of arts education and teaching and leadership, James Haywood Rolling Jr. serves as chair of Syracuse University's arts education programs, which are based in the College of Visual and Performing Arts and School of Education.
Rolling is also an affiliated faculty member in African American Studies. In Fall 2018, Rolling was appointed to serve as the inaugural Director of Diversity, Equity, and Inclusion for VPA. Most recently, Dr. Rolling has been elected to become the 37th President of the National Art Education Association (NAEA) starting in 2021.
Nationally, Dr. Rolling continues to champion the cause of achieving greater diversity throughout the visual arts fields as the inaugural Chair of the NAEA Equity, Diversity, and Inclusion Commission, overseeing the dedicated work of 11 commissioners from around the nation in various arts and museum education-related fields. Dr. Rolling's initial service on the Board of Directors of NAEA was as Higher Education Division Director from 2011-2013. Rolling is also the 2014 recipient of the National Higher Education Art Educator Award for outstanding service and achievement of national significance; served a three-year term (2015-2017) as Senior Editor of Art Education, a bi-monthly research journal for arts education practitioners; and was inducted as part of the 2017 class of NAEA Distinguished Fellows in recognition of a career of exemplary accomplishment in research, scholarship, teaching, and leadership in the field.
In his earlier education, Rolling earned an M.F.A. in studio arts research from the Experimental Studios department that once existed at Syracuse University, while also studying as a graduate fellow in the Department of African American Studies. Rolling completed his doctoral studies in art education in 2003 under the mentorship of Drs. Graeme Sullivan and Judith Burton at Teachers College, Columbia University. As the coordinator for K-12 New York State art teacher education programs at Syracuse University, Rolling has actively worked to reconceptualize of the arts education discipline as a natural nexus of interdisciplinary scholarship where studio art, design, and other media arts practices emerge as an avenue for social responsibility.
As a visual artist, Rolling focuses on mixed-media explorations and portraiture of the human condition, viewing studio arts practices as an essential form of social research. As a researcher, Rolling is devoted to telling the story of how human beings creatively constitute, shape, and reinterpret personal and collective identity. Rolling was an associate editor of the award-winning SAGE Publications Encyclopedia of Identity and is a 2018 graduate of the School for Art Leaders, a flagship professional development program of NAEA supporting art + design educators in their quest to excel as leaders. Dr. Rolling's scholarly interests include arts-based educational research, creative leadership, curriculum and pedagogy, social justice and community-engaged scholarship, along with narrative inquiry in qualitative research.
Rolling has written grant project proposals garnering nearly $2.5 million dollars of external funding since 2014. He was the founder of the 4A Arts & Creative Literacies Academy, a college-community partnership between Syracuse University Art Education and Dr. Edwin E. Weeks Elementary School. 4A Academy featured a cross-disciplinary STEAM education instructional format exploring the arts and sciences and serving more than 800 students in grades K-5 daily.
Rolling is the author of Swarm Intelligence: What Nature Teaches Us About Shaping Creative Leadership, a surprising look at the social origins of creativity, published by Palgrave Macmillan, as well as the Arts-based Research Primer, an introductory textbook released by Peter Lang Publishing that explores the flexible architecture of critical and creative practice-based theory-building research methodologies. Rolling is also the author of Cinderella Story: A Scholarly Sketchbook About Race, Identity, Barack Obama, the Human Spirit, and Other Stuff That Matters (AltaMira Press) and Come Look With Me: Discovering African American Art for Children (Charlesbridge), in addition to more than 35 peer-reviewed articles and commentaries, fourteen book chapters, and five encyclopedia entries on the subjects of the arts, education, creativity, and human identity. In 2020, Rolling will publish Growing Up Ugly: Memoirs of a Black Boy Daydreaming, an inspirational coming-of-age narrative tracing his emergence as a painfully shy child raised in a struggling inner-city New York neighborhood who learned to rewrite the trajectory of his life story through the development of his own creative superpowers.
Education
Ed.D., Ed.M., Columbia University, Teachers College
M.F.A., Syracuse University
B.F.A., The Cooper Union for the Advancement of Science and Art