James Abbott
Setnor School of Music
Professor of Practice & Chair, Music Industry & Technologies
Program Coordinator, Sound Recording Technology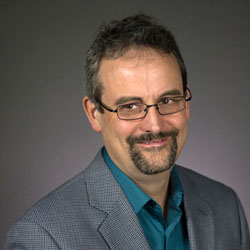 406 Crouse College
Syracuse, NY 13244-1010
James Abbott is a recording engineer, educator, audio technology consultant, programmer, electronics designer, and musician. He has engineered, edited, and mastered more than 50 commercially released recordings in various genres.
His work can be heard on NPR, PBS, Centaur Records, New World Records, Sony, Composer's Recordings (CRI), Albany, GM, Sanctuary Classics (Black Box), Victor, Mark Records, Innova, Naxos, Koch Classics, Raven Records, Summit, Warner Brothers, and Endeavor Classics. His clients include many well known ensembles, organizations, and musicians, including the Syracuse Children's Chorus, Boston Brass, Albany Symphony, Cassatt String Quartet, Corigliano String Quartet, Thomas Lanners, Glimmerglass Opera, Cleveland Chamber Symphony, Civic Morning Musicals, Syracuse Society for New Music, Andrew Russo, David Cossin, and Hilary Hahn.
Widely considered to be a specialist in the recording of new music, Abbott has recorded the work of many renowned composers, including Libby Larsen, Augusta Read Thomas, Aaron Jay Kernis, Gabriela Franck, Ross Lee Finney, David Lang, Gunther Schuller, and John Corigliano. A recent project recording for Black Box Records, John Corigliano Violin Sonata Etude Fantasy with Andrew Russo, piano and Corey Cerovsek, violin (2007), received a Grammy nomination in the Best Chamber Music Recording category. In 2010, a project he engineered for the Syracuse Society for New Music released on Innova Records, Serendipity, won a 2010 Syracuse Area Music Award (SAMMY).
Abbott holds a B.M. in music engineering from the University of Miami and a M.S. in engineering management from Syracuse University. He is married to Elizabeth, an art educator and graduate of Syracuse University. They have two children, Keelin and Alexander. In his spare time he enjoys sailing Lake Ontario with his family, building and flying high-performance remote control model airplanes, and designing scary electro-mechanical devices in his workshop. He is convinced that his modulated Dual Resonant Solid State Tesla Coils will soon make their orchestral debut on stage in Setnor Auditorium.
Education
M.S., Syracuse University
B.M., University of Miami
Expertise
Audio engineering, software engineering, electronics engineering, engineering statistics, and acoustics