Heath Hanlin
Department of Film and Media Arts
Associate Professor, Computer Art and Animation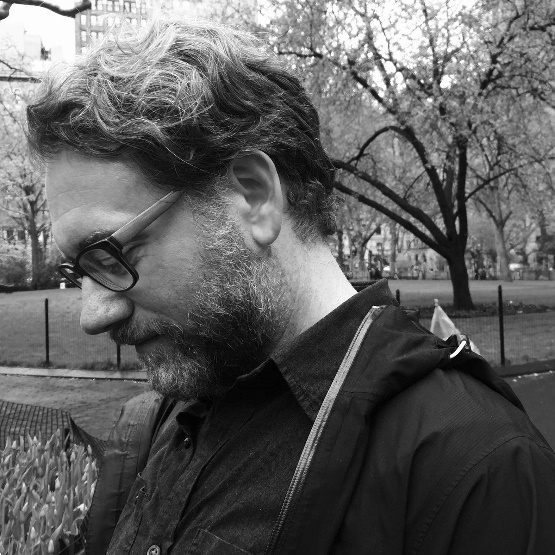 351 Shaffer Art Building
Syracuse, NY 13244-1210
Heath Hanlin is a wholesome boy from the Midwest who likes to make really weird animations and music. He has been working as a media artist and musician since 1989, when he found a Boss dual-delay pedal, a microphone, and a dying cassette recorder in the basement of an abandoned house in Iowa City, Iowa.
His animations, virtual realities, interactive media, music, deadly noise, and installations have been shown and performed in New York City, Los Angeles, San Francisco, Prague, Tokyo, Kobe, and many, many other places that don't sound as cool, like Lexington, Kentucky, and Denver. He teaches computer animation and audio production courses.
Education
M.F.A., The Ohio State University
B.F.A., University of Iowa
Expertise
Virtual Reality, contemporary and historical techniques from 1996 to today.
Animation, voting member of ASIFA Hollywood and expert on industrial and experimental techniques and production methodologies
VFX, expert on the history and context of VFX in film and television
Sound recording and design, expertise in studio recording and sound design for VR, film, television, and games
Current Projects (Virtual Reality)
Felted is a single user experience reproducing and modifying a piece of the Black River Valley in upstate NY. I'm working with Charles Hyuck, a geographer based in Los Angeles, on developing landscape and foliage capture technology that will allow automated drones to take high resolution scans of the valley and use that data to create navigable virtual space. Felted is designed to run on a personal computer using either Vive or Oculus headsets and will be available on the Steam store and other online venues. We are 2-3 years away from completing Felted.

Pairs is a two-person experience exploring intimacy and experiences in non-human bodies. It requires two headsets and two separate personal computers. Current limitations on consumer computers will make Pairs difficult to distribute widely so I am talking to several venues that have shown my recent animation piece, Branches, about exhibiting the work at film and media festivals. Pairs is a solo project and I expect to complete it at about the same time as Felted.

Unnamed VR project on climate change. I'm in the initial stages of studying production and fundraising feasibility for a series of VR kiosks illustrating climate change located in children's science museums, leveraging the technology we are developing for Felted.
Screenings/Festivals/Exhibitions/Lectures/Panels/Grants (reverse chronological order)
Intangible Expedition, Beijing Museum of Visual Arts (2017), Beijing, China, Branches (2015)
KC Film Fest, (Mar 2016) Kansas City, Branches (2015)
Indie Memphis Film Festival, (Feb 2016), Memphis, TN, Branches (2015) jury prize for best experimental film
Mirror Mountain Film Festival, (Dec 2015) Ottawa, Canada, Branches (2015)
The Other Venice Film Festival (Oct 2015) Los Angeles, CA, Branches (2015)
Syracuse International Film Festival (Oct 2015) Syracuse, NY, Branches (2015)
Snake Alley Festival of Film (Aug 2015) Burlington, IA, Branches (2015)
Columbia Gorge International Film Festival (Aug 2015) Washougal, WA, Branches (2015)
Desert Rocks Film Festival (Aug 2015), Hesperia, CA, Branches (2015) Bronze Jury prize
Mykonos Cinema (Jul 2015), Mykonos, Greece, Branches (2015),
Branches screened for one week in front of Avengers Age of Ultron in this outdoor cinema in the Old Town
Mykonos Biennale (Jul 2015) Mykonos, Greece, Branches (2015)
Moviate Underground at Artsfest (May 2015) Harrisburg, PA, Branches (2015)
Athens International Festival of Film + Video (Ohio) (Apr 2015) Athens, OH, Branches (2015)
AWCD Conference 2014, Dalian, China: "VFX between the Trons", invited
Beyond | In WNY 2010, Lucid Lunch, original score