Ginnie Hsu
School of Art
Assistant Professor, Illustration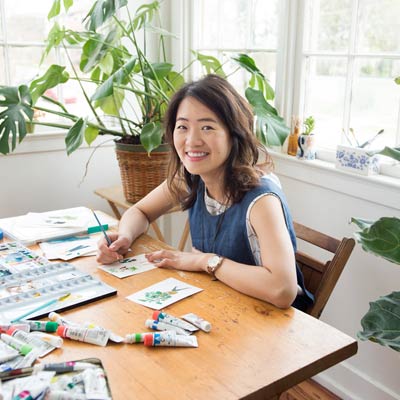 Shaffer Art Building
Syracuse, NY 13244-1210
Ginnie Hsu is an illustrator, designer, educator, and maker.
Hsu came to Syracuse University from Mississippi State University, where she has served as an assistant professor of art since 2016. Previously she served as a teacher of record of visual communications in art and art history at the University of Texas at Arlington. Hsu has also worked as an illustrator and designer at I/O Studio and an art director and graphic designer at Hardie's Fresh Food Co. in Dallas, Texas. She was also a UX and UI designer and illustrator at ISER Research Center in Starkville, Mississippi.
Hsu's work is often inspired by everyday life, nature, human living, and well-being. She has exhibited her work internationally, most recently in Taipei, Taiwan, and Itoshima, Japan (solo exhibition). Her clients and publications have included Quarto Publishing, Benchmark Education, Old Dungate Press, Breathe Magazine, American Greetings, Babbel Magazine, and Southern Culture Magazine. She has held artist residencies at Studio Kura in Itoshima; Light Gray Art Lab in Bergen, Norway; and the Truro Center for the Arts at Castle Hill in Truro, Massachusetts.
Hsu is a member of the Society of Illustrators and the American Institute of Graphic Arts (AIGA). She has received recognition in Creative Quarterly 55, 3x3 International Illustration Show No.15 (Picture Book Bronze, two Professional Merits), AI-AP International Motion Art Awards 6 (winner), and Uppercase Magazine No.38 "Fresh."
Hsu holds an M.F.A. and a B.F.A. in visual communication from the University of Texas at Arlington, which she earned in 2016 and 2012, respectively.
Education
M.F.A., University of Texas at Arlington
B.F.A., University of Texas at Arlington