Gail Hoffman
Department of Film and Media Arts
Part-Time Assistant Professor, Art Video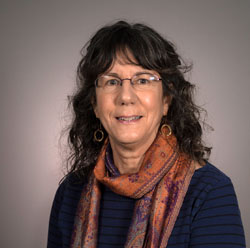 220 Smith Hall
Syracuse, NY 13244-1180
Gail Hoffman received a B.A. with honors in fine arts from Dickinson College in Carlisle, Pennsylvania, and an M.F.A. in printmaking from Indiana University. She taught at the Park School in Brooklandville, Marylan, before coming to Syracuse, where she teaches 2-D Creative Processes and Experimental Animation in the School of Art and Video Sketchbook.
Hoffman casts her bronze narrative figurative work at the foundry in the University's sculpture facility. Her first solo show was at the Chuck Levitan Gallery in Soho in 1998. She has shown at the Denise Bibro Gallery in Chelsea and has been a national affiliate member of SOHO20 Chelsea Gallery since 2001. She shows regionally and nationally, recently completing a permanent installation in Hinds Hall for the iSchool's Windows Project.
Hoffman was the visual arts editor for the 2009 edition of Stone Canoe, a journal of arts and ideas from upstate New York, and is a recipient of a 2008-1010 Enitiative grant given to SU by the Ewing Marion Kauffman Foundation for a collaborative community project between SU design students and the Syracuse city high schools. She and her students have been active in the Urban Video Project, another collaborative community/university initiative that involves projecting large-scale images and videos onto two downtown Syracuse buildings. These projections follow the theme of her own time-based work by making connections with the city's past, present, and future.
Education
M.F.A., Indiana University
B.A., Dickinson College
Expertise
Time Arts and two-dimensional creative processes